Prep Time: 25-30 minutes
Cooking Time: 1 1/2 hr
Servings: 4-6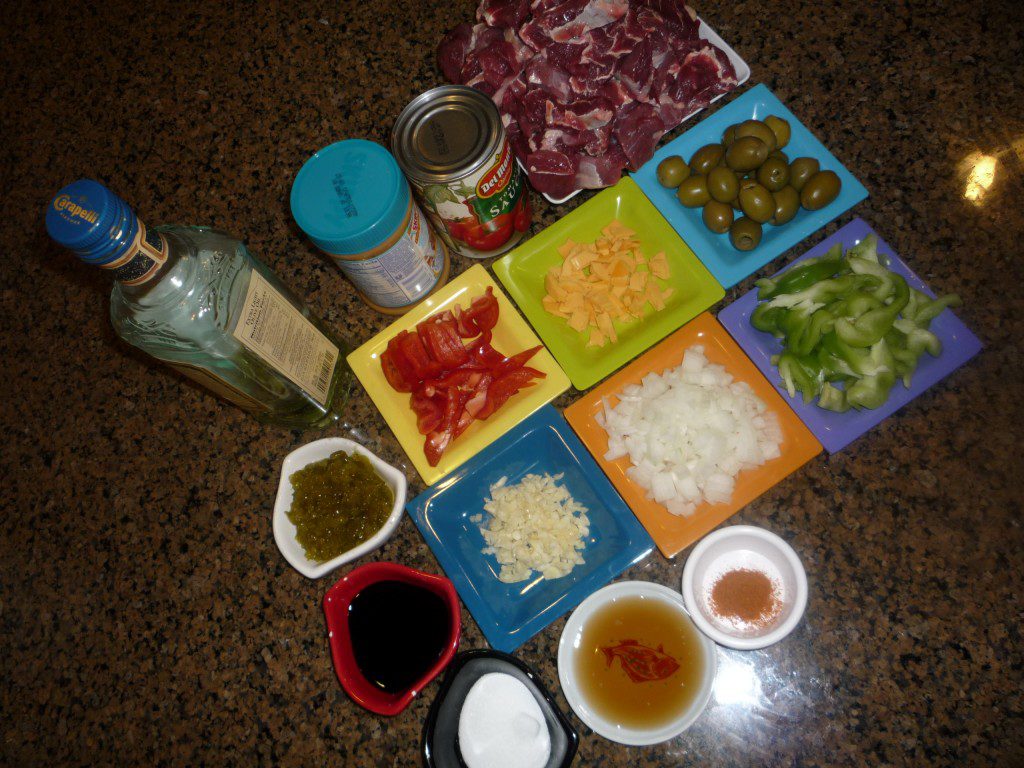 Ingredients:
2 lbs beef shank or beef short ribs(cut up in cubes)
2 tbsp Fish sauce
2 tbsp Soy sauce
1 tsp grnd pepper
1/4 cup garlic (minced)
1/4 cup olive oil
1/4 cup onions (minced)
2 tsp sweet relish
3 tablespoons tomato paste
1 tbsp chili oil, or chili powder or minced hot chili pepper (if spicy preferred)
8 cups water or beef stock
1 small red bell pepper (quartered)
1 small green bell pepper (quartered)
1/2 cup green olives
1/2 cup grated cheese
2 tbsp peanut butter
1 tbsp liver spread
Directions:
Heat Olive oil and add in meat. Sear all meat. Set aside.  Saute garlic, onion, tomatoes, . Cook until brown, add meat, fish sauce and tomato paste, then stir well. Add in chili and stock. Add peanut butter, cheese, and relish. Simmer until meat is tender and until sauce thickens. Lastly, add bell peppers and olives.
Tips:
– The longer you simmer in low fire, the better because it allows all the sauce and ingredients to be all mixed in that makes it thick and adds that great-looking red-orangy color. Crock-pot or slow-cooker can also be used but I would sautee the main ingredients first.  That's just me ;p
– Beef short ribs can also be used in substitute for beef shank. I like cutting up my meat in different sizes. Bigger and small cubes, big strips. This adds texture to the dish.
– Beef tendon can be added if preferred
– This Beef Stew in Peanut sauce can also be cooked in coconut milk in substitute of peanut butter
"Cookery is not chemistry. It is an Art. It requires instinct and taste rather than exact measurements". – Xavier Marcel Boulestin (French Chef)