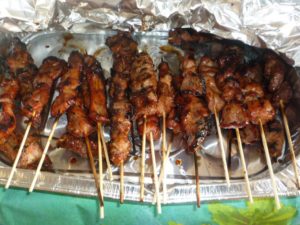 How to make Pork Barbeque:
Prep time: Around 20 minutes (depends how much meat you are prepping)
Marinating Schedule: 3 hours upto 24 hrs is fine
Grill: Between 10 to 15 minutes each
Ingredients:
2 lbs pork
20 bamboo skewers
1 cup soy sauce
2 tablespoons of cooking oil
1 head garlic, minced
1/4 cup of calamansi juice or lemon juice
1/2 cup of pineapple juice (optional)
1 teaspoon ground black pepper
3 tablespoons of brown or white sugar
1 cup of banana ketchup (half for marinating and half for glazing)
1/4 tsp chili powder/cayenne pepper if you want a little bit spicy
Aluminum foil
Instructions:
Cut pork meat into into 6 inch long, 1/2 inch thick and 1 inch wide. Whichever you prefer works.
In a mixing bowl, marinate with the soy sauce, minced garlic, cooking oil, lemon/calamansi juice, ground pepper, sugar, banana catsup and the pineapple juice (this tenderizes and adds flavour to the pork barbeque)
Mix well and keep in the refrigerator for at least 2-3 hrs.
Prepare the bamboo skewers by removing splinters and soaking in water to reduce burning during barbeque.
String the pork on the skewers.
Prepare the aluminum foil and fold to cover lower part of the grill. This is to prevent burning the BBQ sticks.
Over grill, barbeque the pork on skewers until each barbeque is cooked – turning every few minutes on each side and basting the leftover marinate on the barbeque.
A few minutes before taking them out of the grill, brush with ketchup/oil/ground pepper mixture. This is the glaze that makes it look more appetizing! 😛
 Notes/Tips:
You can use other meat according to your preference.
You can make it spicy according to your preference by adding cayenne pepper or chili powder.
To make it faster and easier, you can also have the option to cut the meat in 1 long slab(1inch by 1 inch by 6 inches) and skew it in all at once.