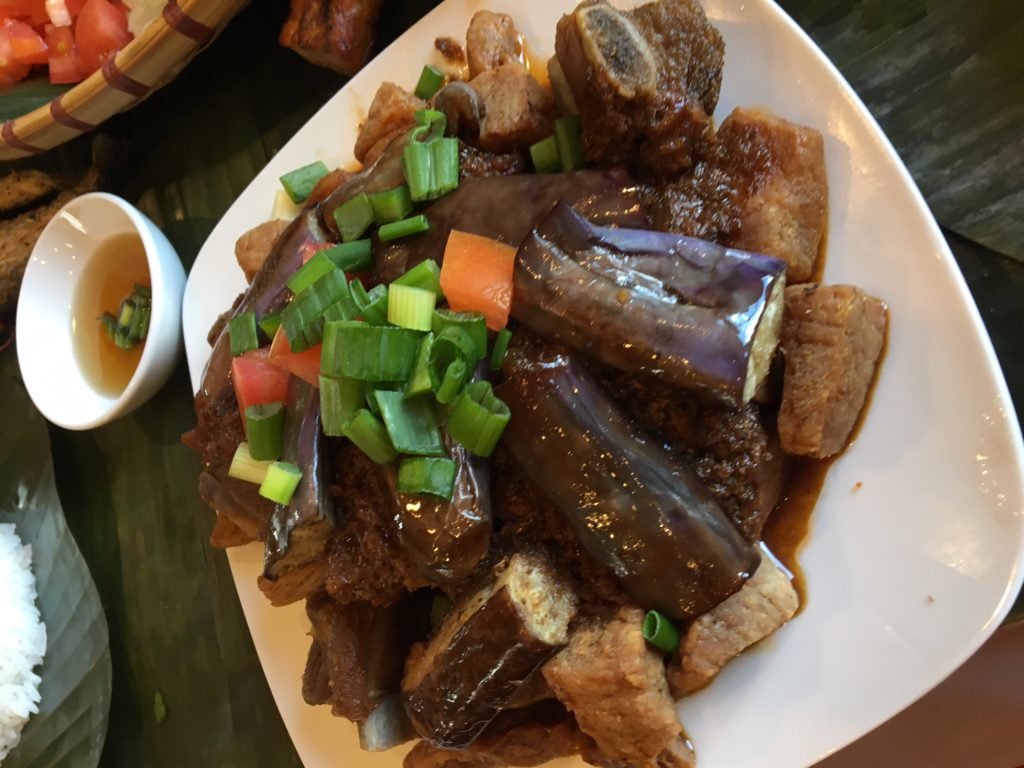 Originally it was only called "Pork Binagoongan", also known as Binagoogang Baboy, where pork  is sauteed and simmered in shrimp paste. It is one of the most favorite Filipino dishes. A perfect dish that is always served with fried eggplant, tomatoes and onions, green mango(unripe), and steamed rice!
Shrimp paste(Bagoong Alamang in Tagalog) is the key ingredient of Pork Binagoongan.  Shrimp paste is normally used as a condiment by Filipinos, which is made from a fermented mixture of small shrimps and salt, which gives flavor to the dish. We use it to dip green mangoes, singkamas(jicamas), pineapple, and more. It is also great pairing with steamed or grilled vegetables and some people mix it with vinegar. If you are not used to it, you may find the flavor too strong and too salty as well as the smell itself.  This jar of sautéed shrimp paste comes in different brands: Pamana, Kamayan or Barrio Fiesta, with different types of flavor as regular, sweet or spicy.
The Crispy style just became popular recently.  Now, it is served with the fried eggplant on top. Onions and tomatoes are also optional.
Prep Time: 20-25 minutes
Cooking Time: 1 hr
Servings: 6=8
Ingredients:
2 lbs  pork belly, cut into cubes
1/2 cup shrimp bagoong
6 cloves garlic; chopped
1 small onion; chopped(save half for toppings)
1 medium tomato; cut into cubes(de-seeded);(save half for toppings)
1 chili pepper
4 tablespoons vinegar
1 tablespoon sugar
1/4 cup oil
3 cups water
1 medium eggplant, cut into strips(1 x 2 inches)
Directions:
Cut pork into cubes (1 inch by 1 & 1/2 inch.
Boil pork using only 2 cups of water.  Add pinch of salt. Simmer until tender and once water is all dried up, add the oil to fry. Keep stirring until crispy. Pour in the serving plate once done.
Sauté garlic, onion, and tomato in same pan. Reduce oil if needed.
Add shrimp bagoong, and chili pepper.
Add 1 cup water.
Stir and simmer in low heat for 20-30 minutes.
Whike simmering the sauce, fry eggplant in little oil in another pan
Add vinegar and sugar. Simmer for another 10 minutes.
Pour the sauce mixture over fried pork.
Put the fried eggplant, tomatoes and onions as toppings. Can be served on the side as well if preferred.
Serve with steam rice.
Tips:
Do not cover pan when simmering with vinegar.
Adding pepperoncini is optional on the side. Taste great pairing them as well.
If you prefer on the sweeter side, add more sugar. I prefer mine more on savory flavor, so I don't use much sugar.
Shortcut tips – if you feel lazy going thru all this, just buy lechon kawali or roast pork belly. All you have to make is the shrimp sauce and pour over the meat 🙂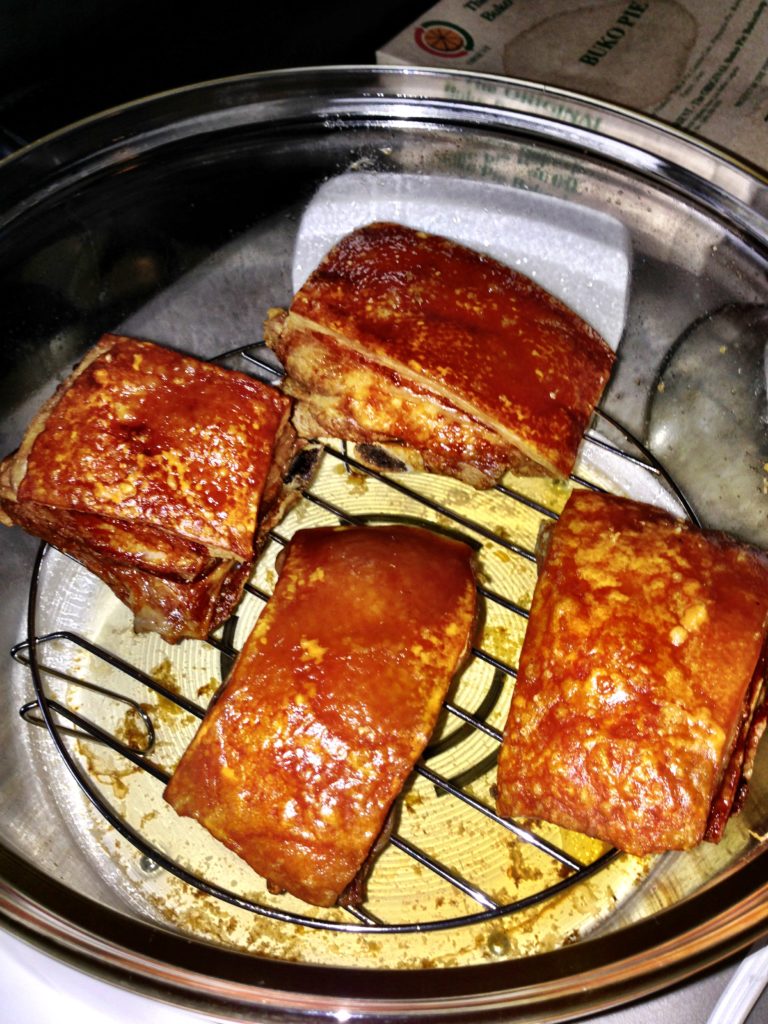 "Cookery is not chemistry. It is an Art. It requires instinct and taste rather than exact measurements". – Xavier Marcel Boulestin (French Chef)