Beef Nilaga as easy as 1-2-3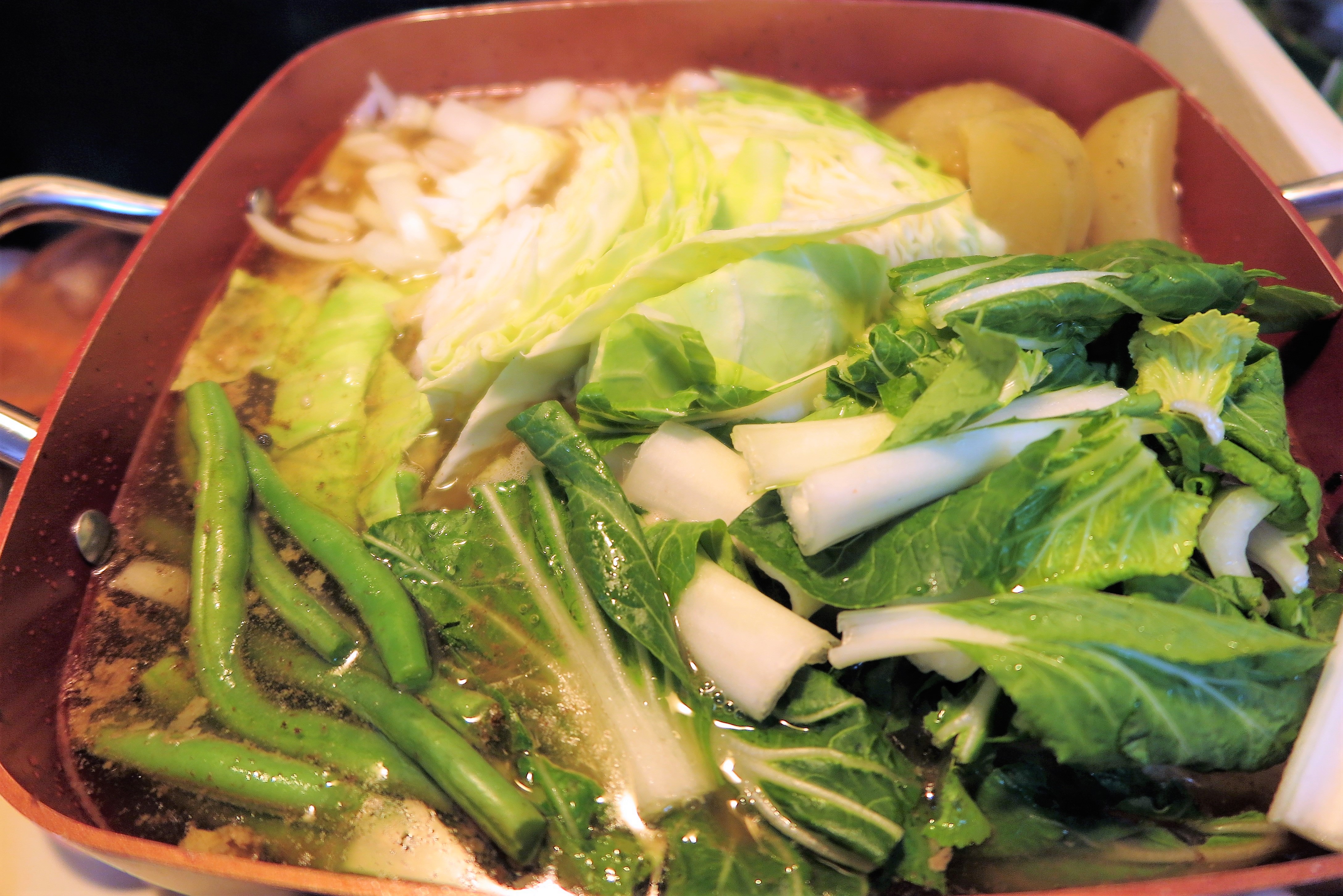 Just like any other state or country, Philippines has many different types of soup recipes as well. This beef cabbage soup, the throw-it-all-together soup is so simple, yet, it is very flavorful, healthy and so comforting. In the Philippines, we were always told by our elders to keep eating them since they are very healthy and nourishing especially when we were sick and during rainy season.  There's no better way to savor them during cold weather. It is also highly recommended for breastfeeding mothers. Eating soups regularly helps them produce more milk for their newborn. This dish is also very popular to mothers or any households who have child/children from 6 months onwards that is being introduced to solid foods. KIds love them as they're so easy to eat and very tasty. They mashed the potato,  mixed with the broth and/or put little bit of rice.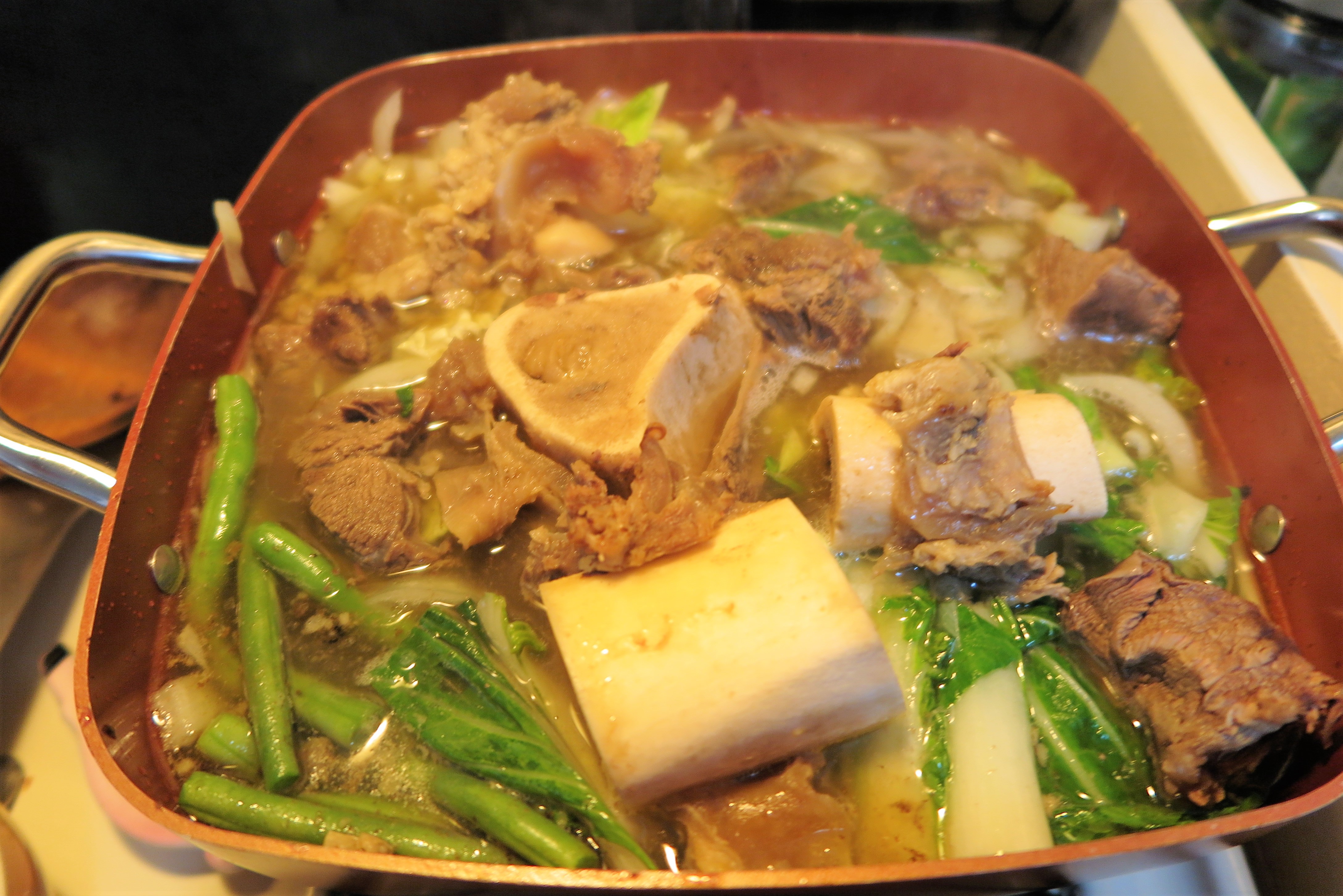 A soup is just like one family. Each and everyone of the ingredients has it's own characteristics and strengths which they make up for each other, thus, creating and ending up with one great result and flavor. Another secret is just simmering them in low fire for longer amount of time so that all flavors will incorporate really well and create one great of a recipe. A bowl of soup has a wealthful ingredients which offers you all the nutrients you need. They are also inexpensive and helps with weight loss too! How good is that?!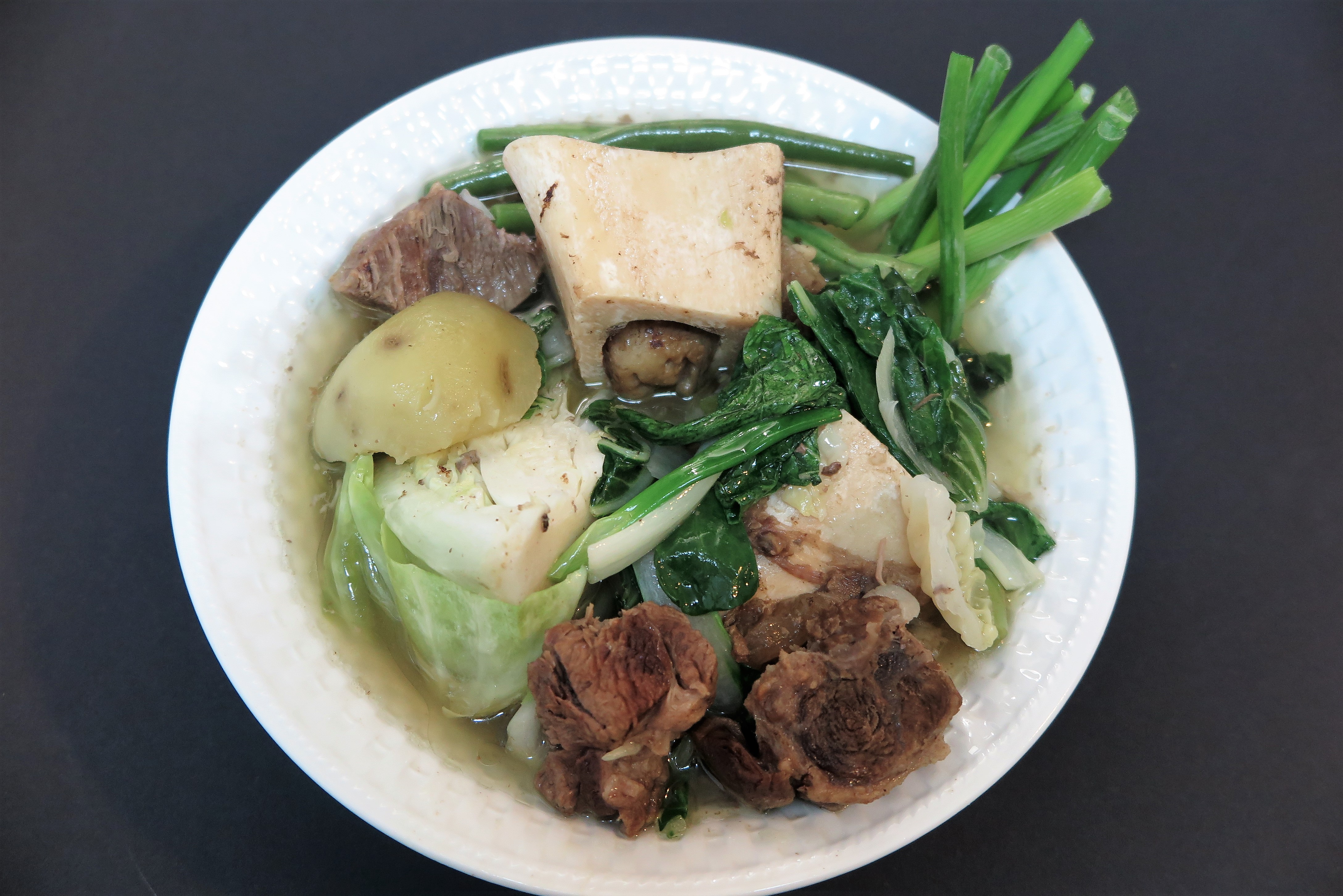 beef shank with bone-in and bone marrow cabbage soup
I recommend reading my tips first, that way, you  might want to follow some tips there that will affect your grocery-buying or the way you will prepare and cook some  of the ingredients.
Prep Time: 20-25 minutes
Cooking Time: 90-180 minutes
Servings: 6-9
Ingredients:
3 lbs of beef shanks with bone-in (cut up meat in 1 1/2 inch by 1 1/2 inch) Leave a little  meat around the bone
1 medium yellow onion(sliced)
1 small cabbage(cut up and divide in 8-10 pcs)
couple of stems of green onion
1 cup green beans
1 cup of pechay (bokchoy or Chinese cabbage)
1 medium potato(cut in 8-10 pcs)
1 yellow corn ( cut in 6-8 pcs) optional
2 pcs of saba banana(plantain) optional
2 tbsp. pink salt
2 tbsp of fish sauce(add to broth)
1 tsp of ground white pepper
1 tsp of whole corn pepper
16-20 cups of water(maybe more if meat is tougher)
3 tbsp of fish sauce (for condiment)
1 tbsp lemon juice or calamansi juice (Philippine lemon) for condiment
1-2 pcs of chilli peppers to add to condiment(optional)
If you see lots of oil floating around, make sure to scoop them out and toss. This is also better when you save in the fridge and next day it is so much easier to scoop them out as the fat has toughen up already.
Directions:
Boil water first then drop the meat, except the one with bones
Wait for the dirt scum to float and keep scooping out until it clears up( this happens between 15 minutes of boiling to 30 minutes)
Pour the salt and fish sauce. Cover pan slightly to make sure it won't overflow
Boil for 45 minutes in medium fire
Drop the bone marrows and boil for another 30-45 minutes
Put the onions, whole corn peppers and potatoes. Boil for around 20-25 minutes
Drop the beans. Wait for 5 minutes then put cabbage. Lastly the pechay and turn off. Pour the ground white pepper
Serve with steam rice and condiments on the side
Best matched with fried fish. Yummm!!
Enjoy!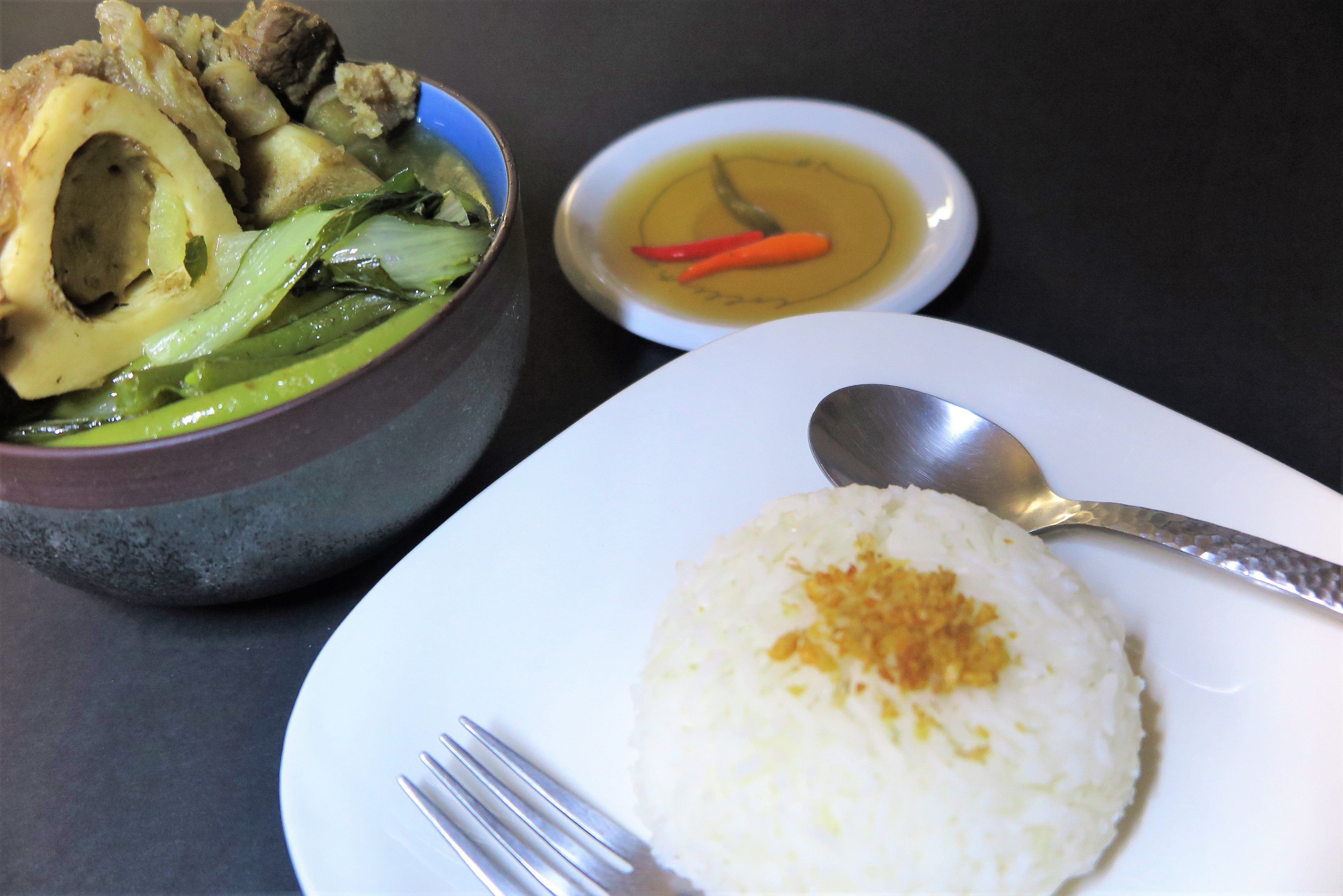 beef bulalo nilaga…now served and ready to eat! enjoy!
Tips: 
1. You have the option of using either pressure cooker if you don't have enough time, or the slow cooker. Both will have great result. Otherwise, use traditional cooking by using regular pot, that's how I do it.
2. I like using beef shanks with bone-in. Sometimes I do like using pork spare ribs as well but using different vegetables. We got used to my dad's recipe while growing up. He cooks it with the green mustard leaves and some spaghetti noodles. Since green mustard is a little bitter, I try to separate them just for me since my family doesn't like the bitterness of it and just put pechay(bokchoy/Chinese cabbage) or cabbage.
3. If I'm cooking for a big batch, I would normally add tendons and request for additional bone marrows from the butcher where I go grocery-shopping. I know that most of my family members and/or friends would love having it. If you decide to add tendons, boil them separately as they take longer to soften. It takes between 2-3 hours.
4. I normally leave the bones and just put them about after 30 minutes It's been boiling. The reason for this is, I am trying to avoid the marrows getting all melted if it get's too overcooked. Also, refrain from stirring as this also make the marrows disappear inside the bone.
5. You can also cook in big batch then save in the freezer and enjoy the other half weeks later for quick lunch or dinner meals. This is so helpful during cold or winter season when you're craving for a hot soup to keep you warm. Just don't include any vegetables. Buy them when you're ready to eat them.
"Cookery is not chemistry. It is an Art. It requires instinct and taste rather than exact measurements". – Xavier Marcel Boulestin (French Chef)