Chicken Macaroni Soup (Chicken sopas)
Just like any other state or country, there is always the easiest, cheapest and yet, so  comforting soup that we always crave for. This is always a popular dish for Filipinos every now and then. Perfect for anytime and is inexpensive, delicious and everybody  loves it. Great for toddlers and kids too since they are so easy to eat and healthy as well.
Before you start doing anything else, I recommend reading my tips first, that way, you  might want to follow some ideas there that will affect your grocery-shopping or the way you will cook and prepare some ingredients. Just like any other subject, there are always rules and guidelines but sometimes rules are meant to be broken, right? It is always good to have them so you can have an idea, correct? However, you can cook this dish the way you like it. I bet it will still taste delicious and you just feel great abut it. Hope it helps 😉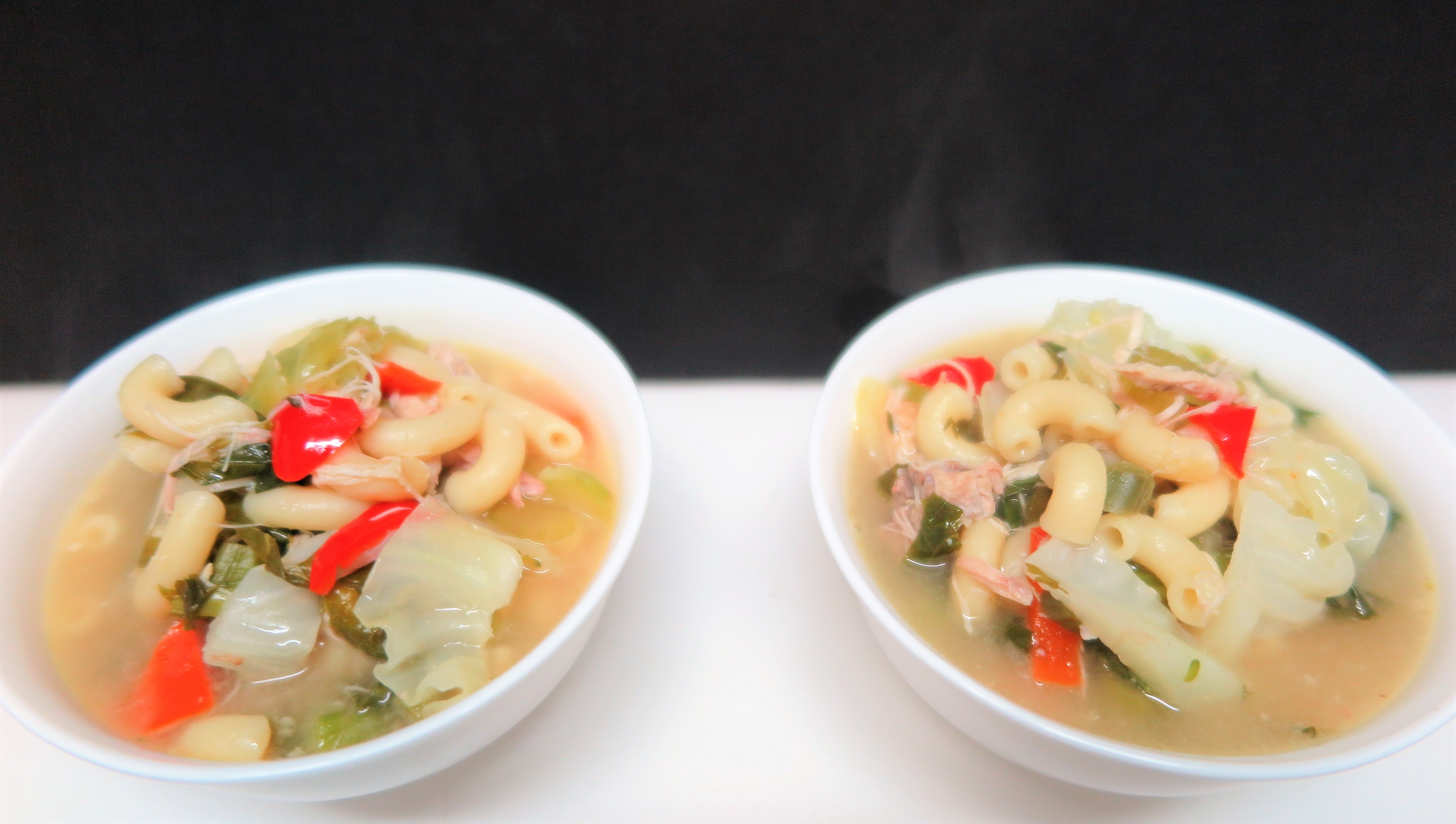 Prep Time: 20-25 minutes
Cooking Time: 40-45 minutes
Servings: 6-8
Ingredients:
1/2 lb elbow macaroni
1 lb chicken breast with bone(or whole if you prefer)
1/2 cabbage shredded
1 cup spinach cut up
1/2 cup white onions chopped
4-5 cloves garlic crushed and chopped
1/4 cup red bell pepper
1/4 cup carrots chopped
1/4 cup celery chopped
1/2 tsp ground black pepper
3 tsp pink salt(1/2 use for water while boiling and other half when you start sauteeing)
8 cups water or more if needed
4 tbsp olive oil
1 cup milk(optional)
a pinch of turmeric(optional)
1/4 cup lemon juice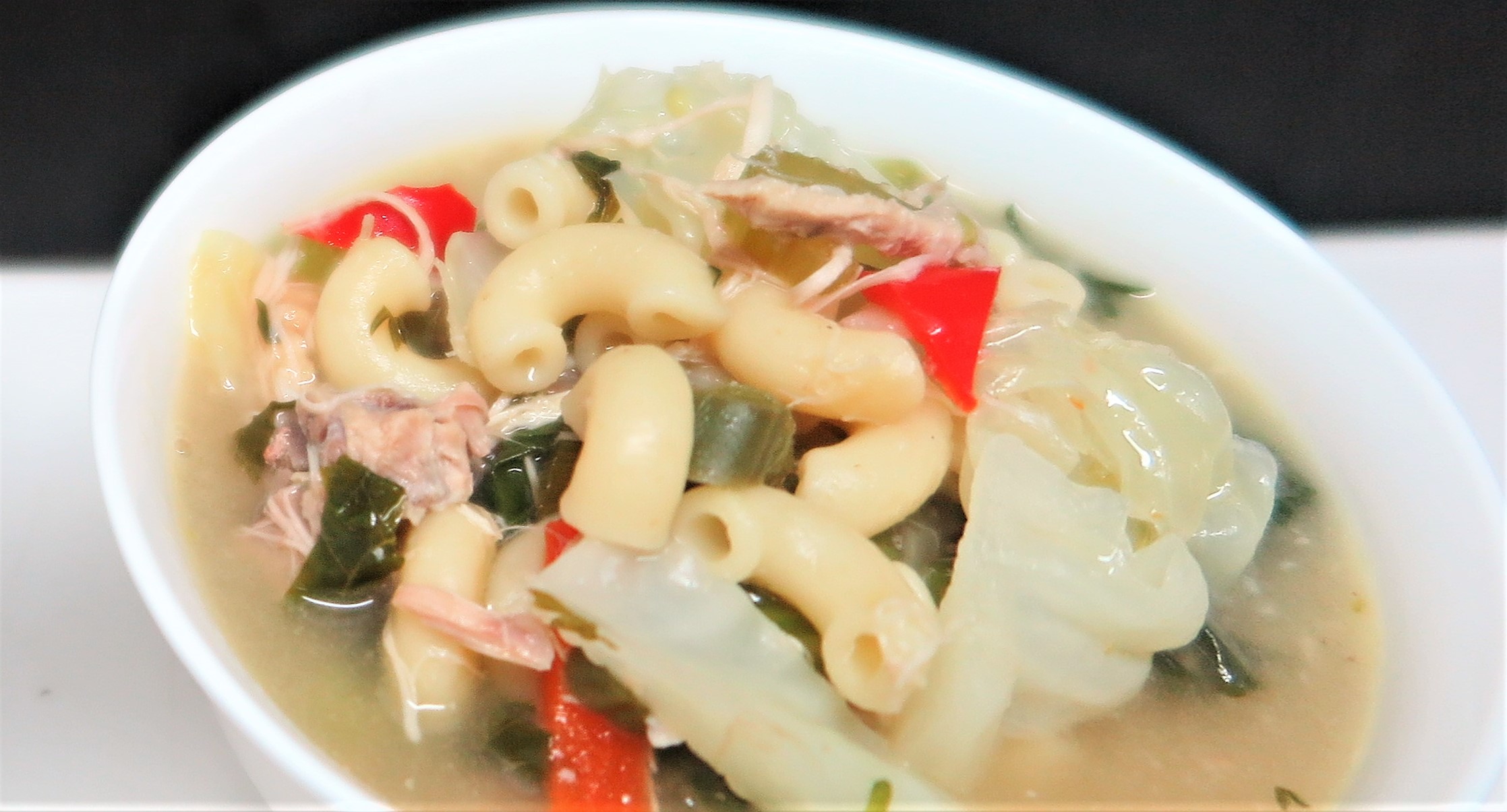 Directions:
Cut c

hicken

in half or quarters and boil with bones in 8 cups water for 30-35 minutes or more if you want to make extra broth. Scoop them out and put in a jar or any glass container if you want to save some
Add 1 tsp salt while cooking
Once cooked, take out chicken and  start cutting and shredding in small pieces by using fork and knife since it is hot. Toss the bones
In the same pot, let water boil once again, pour more water if needed, pour oil then the macaroni
Stir once every 5 minutes or so while cooking so they won't stick together
In another pot, sautee onions, garlic, bell pepper, celery and carrots
Cook until medium soft, pour other half of salt
Put chicken and cook for another 5 minutes. Turn off
Drop the meat mixture into the macaroni pot and stir
Drop the cabbage and cook for another 5 minutes. Turn off
Drop spinach and put ground black pepper and turmeric. Stir
Serve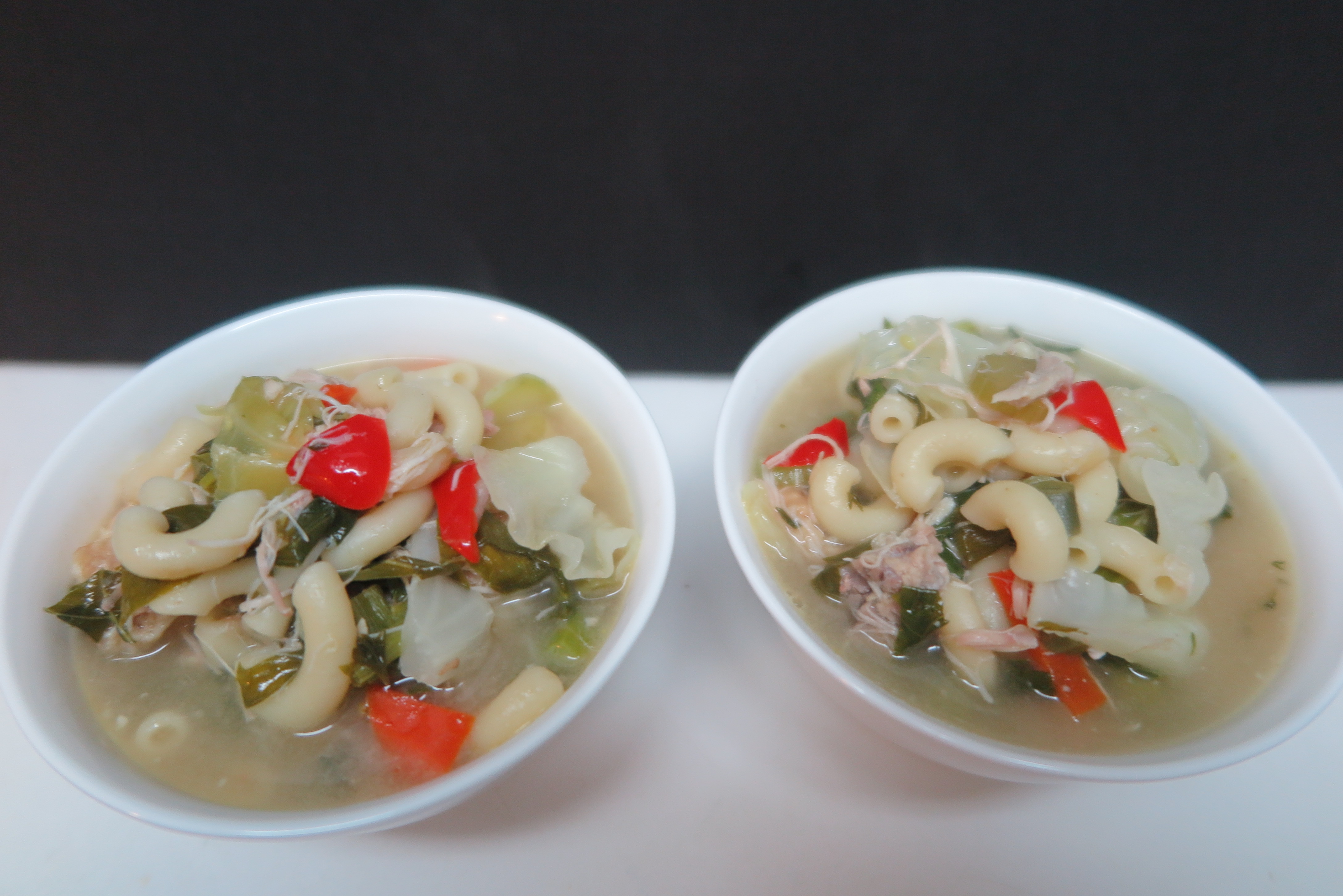 Tips:
If you plan to make any soup or stew later on(Turkey leftovers are great for this too), you can buy whole chicken and boil it for 60-90 minutes with more water to make extra broth as well. Save the broth and/or the meat in the freezer for later use. Or rather,  make couple of dishes in that one day. You save time and steps in boiling, washing and cutting up
Other meals that you can make together with this: Chicken Alfredo, Chicken Afritada(chicken stew), Chicken Tinola(chicken ginger soup), Chicken Sinigang(tamarind soup), Sotanghon soup, (Chicken glass noodle soup)
If you have no time to let the chicken to cool down, you can use fork and knife to start cutting up and shredding the meat versus doing all of them with your hands. I find this easier and faster
Another way of maximizing your time is you can plan and make chicken macaroni and cheese with using part of the chicken and the macaroni as well. you hit 2 birds in one stone
Optional: If you love vegetables, like me, you can also add  whatever leftover greens you have in the fridge. I know, if you have kids, they might not like seeing it with too much veggies, but so what, they'll get used to it and they don't have any choice but eat them anyways lol! They'll get used to eat later on, and before you know it, they're eating them unconsciously ;p
Try to put more chicken than usual if you worry about  consuming too much carb(noodles)
Some people prefer putting milk before consuming the soup. Keep in mind that they won't have a longer life span if you put milk in the whole pot. I'd suggest putting as you serve and eat
You noticed I added a pinch of turmeric. It doesn't really affect the taste although it will change the color a little bit. I have started adding turmeric powder into my cooking couple of years ago since it has many health benefits, so I said why not, coconut ;p
Enjoy!
"Cookery is not chemistry. It is an Art. It requires instinct and taste rather than exact measurements". – Xavier Marcel Boulestin (French Chef)