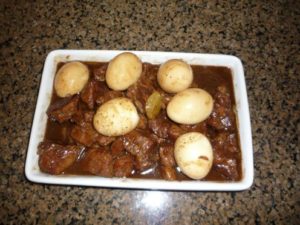 Adobo is one of the most famous Filipino dishes. You can make it using chicken, pork, or even a mix of the two. It's a comfort food that's commonly eaten with rice (and this is recommended, as rice soaks up the delicious sweet, sour, and garlicky sauce excellently.
Prep time: 15 minutes
Cooking Time: 1 hour
Yields: 6-8 servings, depends on appetite
2 lbs pork, cut up 1 1/2 inch wide by 2 inches long
2 cloves of garlic
1 tsp  ground black pepper
3/4 cup soy sauce
1 tsp sea salt
1 tsp brown sugar
1/4 cup vinegar
1 tbsp white or brown sugar
6 hard boiled eggs
2 tbsp olive oil
2-3 bay leaves
3 cups of water or as needed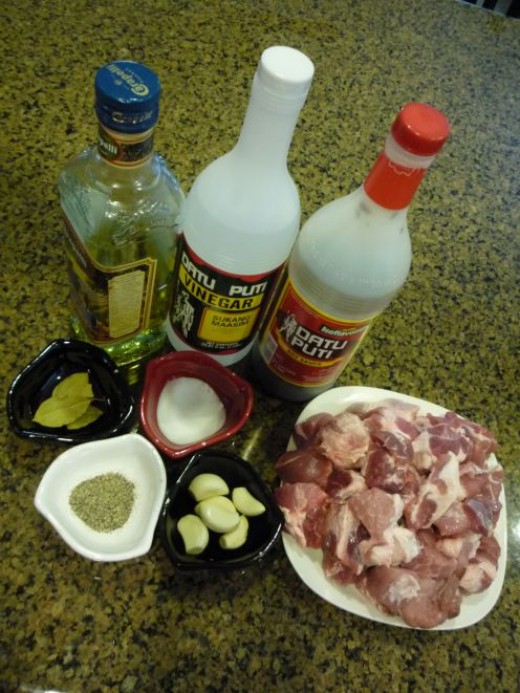 Instructions:
Boil pork in 2 cups water with 1/4 cup of the soy sauce for 30 minutes or until dry.
Heat up oil. Then fry pork to be a little crunchy. Set aside all fried pork and fry garlic in same pan. Brown the garlic, then toss in half of the fried meat only. (Toss other half later, when almost done to enjoy the crispiness on some of the meat)
Add the rest of soy sauce, water, bay leaf,  sugar and ground black pepper. Let it simmer.
Wait until the sauce gets thicker and gets to the color that you want to make it look enticingly delicious (dark brown).
Add vinegar, simmer again for another 8-10 minutes. Do not mix!
Add hard boiled eggs.
Serve over rice or bread and enjoy!
Notes and Tips:
You can add as many as hardboiled eggs you want. lol! For four of us in my family, I would normally use 6-8 pieces of them. Adding them is an alternative also instead of eating more rice. That's for me. Adding hardboiled eggs to our adobo was a tradition while growing up in the Philippines.
You can also add fried whole cloves of garlics in there. I fry some and put it as toppings!
Adding vinegar in the last few minutes of the cooking is very important. Putting the vinegar in the first step of boiling the meat is not advisable as this will not help in making the meat tender faster.
This is a good source of protein especially for those people on diet trying to cut down on carbs (in that case, cut out the rice or bread completely and definitely add the eggs.)
Adobo can be cooked with pork and chicken as combination. Whatever your preference.