How to make Roast Pork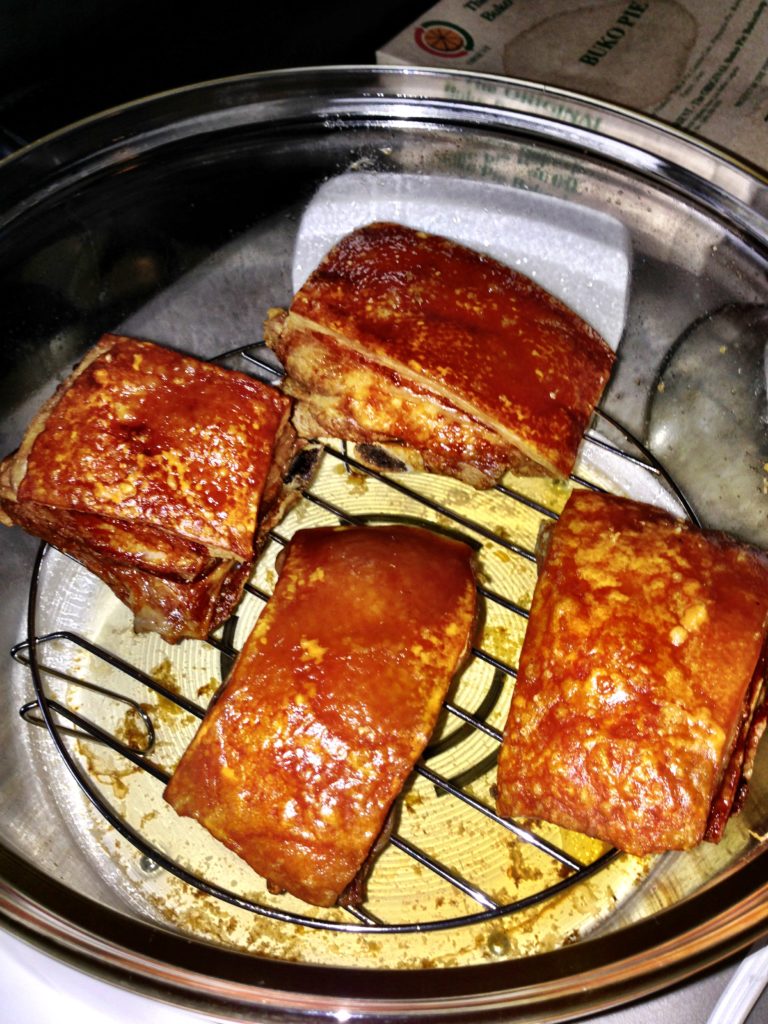 Prep Time: 15-20 minutes
Cooking Time: 2 hr & 15 minutes
Servings: 8-10
Ingredients:
2-3 lbs pork belly(no bones)
10 cups water
1/3 cup Himalayan salt
2 tbsps of black peppercorn
1/2 medium white onion cut into cubes
3-4 cloves of garlic
2-3 pcs of bayleaf
Directions:
1. Boil water and put pork belly in the pan
2. Put all the ingredients
3. Boil for 45-60 minutes or until tender. Poke the  skin using fork. Once the skin is soft and gets cut easily, then it should be done
4. Drain and let it cool for about 1 hour or so
5.Turn on the turbo and set to 325 degree. Let it cook for about 60-90 minutes or until skin turns orange-brown. When you flick the skin, you can tell once it's crispy enough and other parts of the meat-turned-brown is cooked and ready
6. Wait until the meat has cool down for a little bit, start chopping them into bite size and  small pieces.
7. Serve with steam rice
8. Most people use liver sauce with it but some prefer to dip in spicy vinegar sauce
Enjoy!
Tips:
1. You can double or triple the amount of this recipe and freeze the rest of the boiled meat. It is always best to roast them frozen as it would be perfectly juicy on the inside while crispy on the outside. It can stay upto 2=3 months.
2. If you don't have the turbo broiler, a conventional oven is perfectly fine. Just cover with foil for the first half then uncover on the last half of your cooking. You don't need to boil the meat. Just pat dry the pork and rub the salt and pepper all around it. Some people does this and it still turns out really good. I don't recommend deep frying. Bad enough that pork are really fatty, so deep frying is just like adding a fuel onto the fire. Get it? (wink, wink). However, this is how I prefer to cook them so I use my turbo broiler. Plus more oil is drained while it is still cooking.
3. You can also use this if you're cooking monggo(mung bean soup), pinakbet(mixed vegetables), la paz batchoy(noodle soup) and anything that crispy pork recipe you are contemplating on
Food Humor of the Day: (no pun intended)
Roast Pork:
American: "I don't eat pork, but I eat bacon"
Asian: "What is "wong" in eating "pok"?
Me: "May the pork be with you"
"Cookery is not chemistry. It is an Art. It requires instinct and taste rather than exact measurements". – Xavier Marcel Boulestin (French Chef)