Tinadtad means "chopped" in Tagalog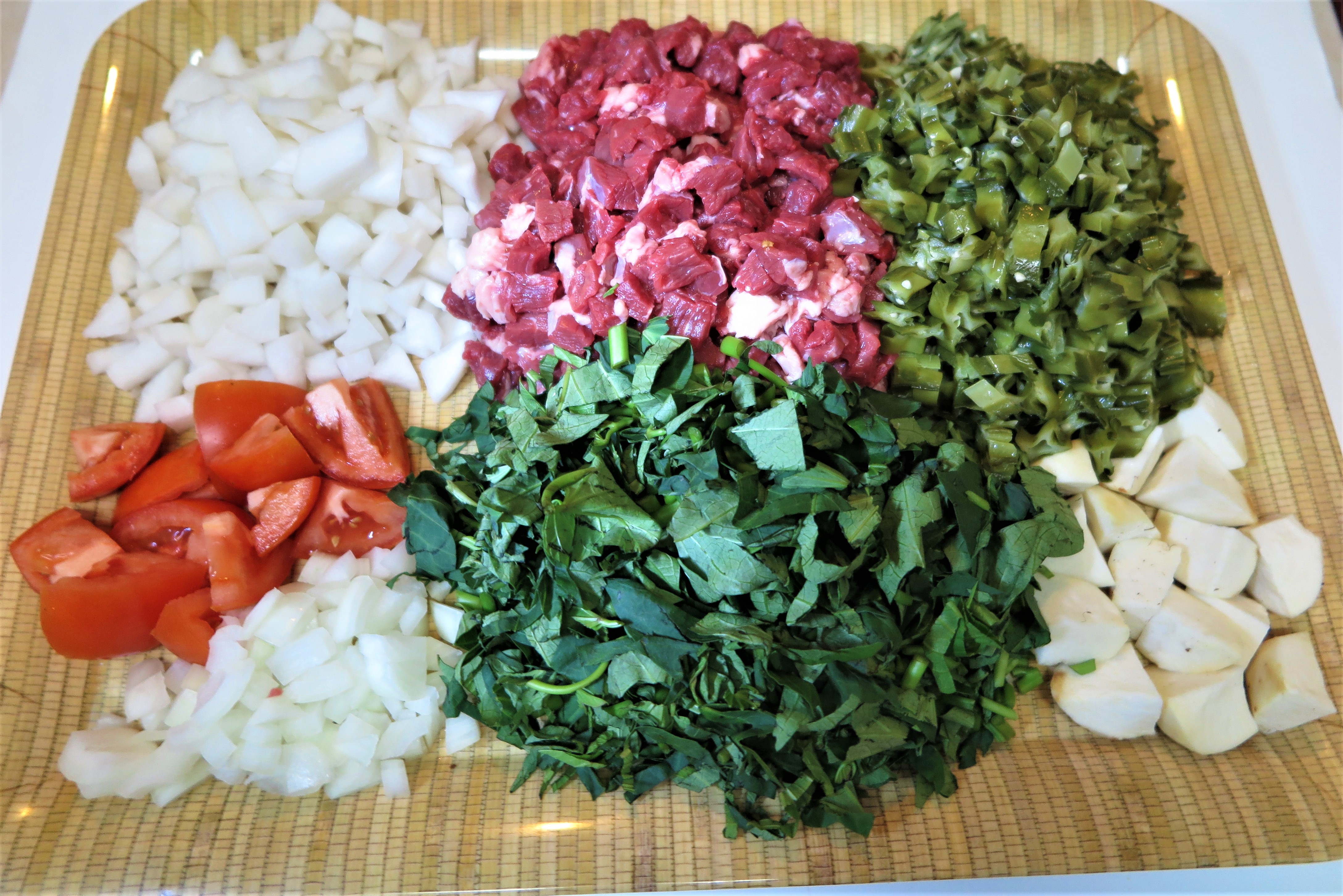 I learned this recipe from my father-in-law and it is not actually a popular filipino dish. According to him, he just invented it and started cooking it by himself since it is cheap and can feed a whole army for a small batch of cooking. My husband has 6 siblings and his dad was the one who's in charge of cooking for the whole family while they were growing up.This soup is similar to our version of Sinigang soup(sour tamarind soup), but difference is all the ingredients used here are chopped into small pieces and/or cubed. The main vegetable used here is very rare. We call it "Sigarilyas" in Tagalog, and  Winged Bean in English. This unique, tasty vegetable is a must try for all. Original cultivation began in Papua New Guinea. They are grown abundantly in the hot, humid equatorial  in Southeast Asia, specifically areas within both the Phillippines and Thailand. The winged bean is also part of the legume family. but only cultivated on a small scale. It does offer an abundance of essential nutrients, including protein, complex carbohydrates, B vitamins, calcium, iron and fiber. They are also popular by being simmered in coconut milk, shrimp paste and ground pork with chilli peppers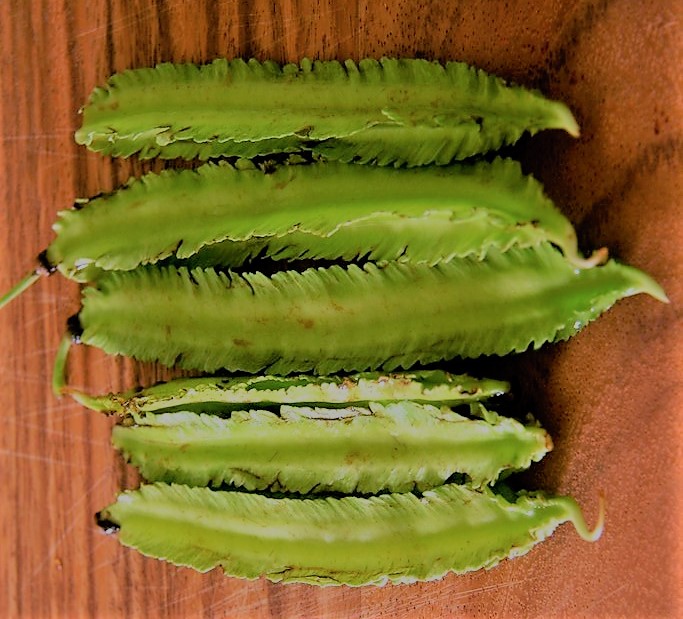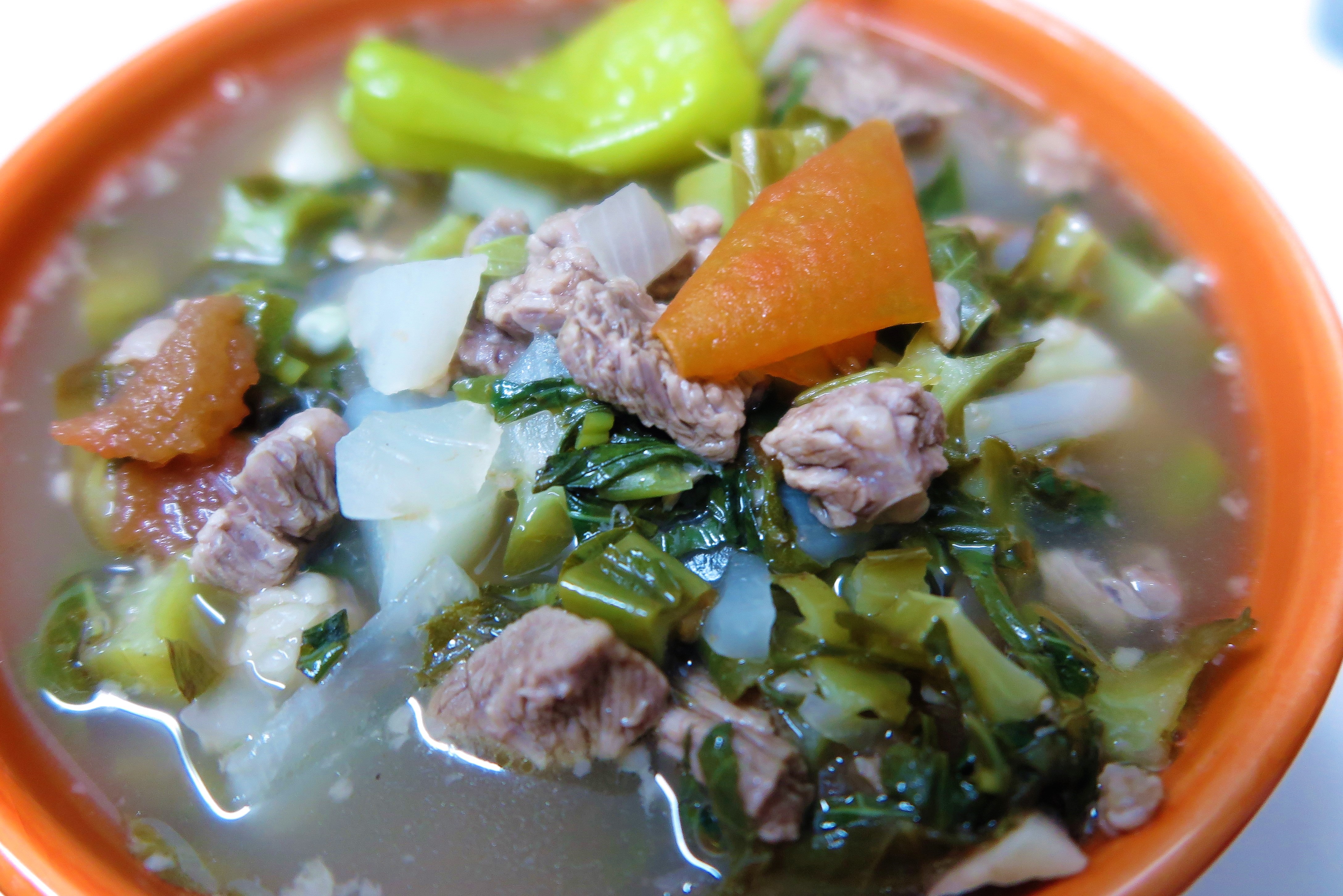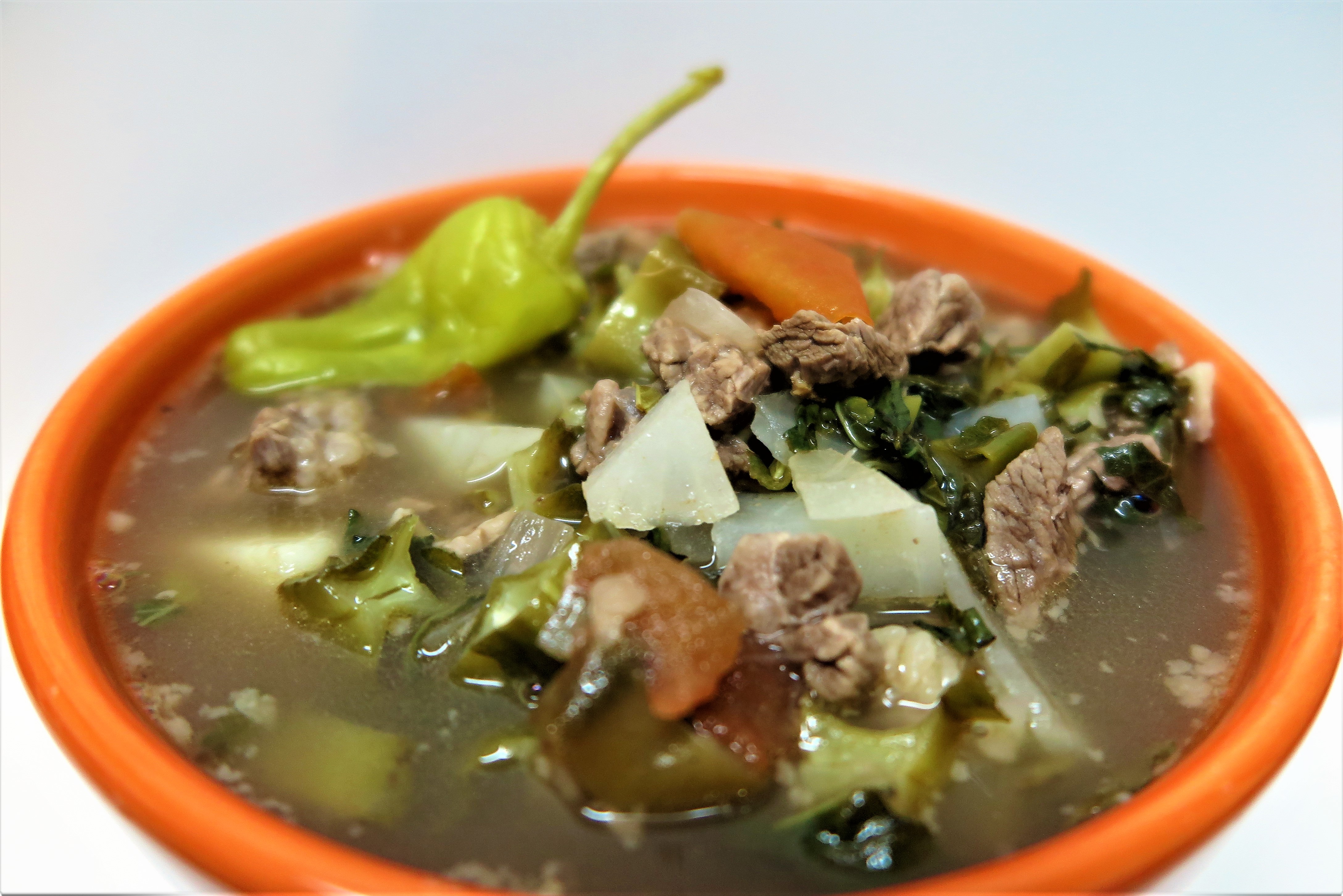 Prep Time: 25-30 minutes
Cooking Time: 1 hr
Servings: 8-10
Ingredients:
1 medium tomatoes(cubed)
1 small white onions(chopped)
4-5 cloves of garlic
2 lbs of beef shank no bones(sliced into small pieces 1/2 inch by 1/2 inch)
1 small white raddish(Japanese)sliced into small pieces
1/2 lb winged bean(sigarilyas) sliced in small pieces
2 cups of chopped watercress
2-3 pcs of Anaheim sweet peppers(sliced into small pieces)
1 small taro root cut into quarters
1 pack of tamarind soup mix(Knorr or Mama Sita's)
1/3 cup of fish sauce
1 tbsp. ground black pepper
5 cups water
2 tbsp. olive oil
Directions:
– Boil the meat. Simmer until the dirt comes out from the meat then scoop them out and toss. Drop the taro roots and keep boiling for half hour. Turn off. Scoop out the meat and place in a strainer to drain. Save the broth for later
– On a hot pan, pour oil and sautee the meat in garlic, onions and tomatoes. Pour the tamarind soup mix
– Once browned, put the raddish and sautee for 2-3 minutes
– Then pour the broth and let it boil for 15-20 minutes
– Pour the fish sauce then the winged beans, peppers and water cress
– Stir. Boil for another 10-15 minutes and turn off
– Sprinkle the ground pepper and stir
– Serve with steam rice
– Fish sauce with crushed chilli peppers on the side as condiment is optional
Enjoy!
Tips:
– Type of meat that can also be used – carne asada where it's sliced thinly already so it's easier and faster for you to cut them in small pieces. You can also add beef chuck roll with fat if you want them little fatter. For me, I like cutting them in different sizes, (shorter, longer, angled, etc) I refuse to have them uniformally cut because I think this is where the texture comes in to enhance the flavor of a dish.
– The fish sauce is normally poured while meat is being sautéed. However, I stopped doing this step of the process due to the very strong smell it causes inside the house while cooking and it lingers that makes it hard to come off 🙁
– You can also use banana peppers if you can't find any Anaheim sweet peppers. If you can handle jalapeno, feel free to do so ;p
"Cookery is not chemistry. It is an Art. It requires instinct and taste rather than exact measurements". – Xavier Marcel Boulestin (French Chef)