Chicken Macaroni Salad
This is always a staple dish for Filipinos every gathering. Perfect for any occasion and is inexpensive, delicious and everybody will love it. It can be prepared 1-2 days ahead  so you can have more time in preparing other dishes if you're hosting a party. You can try making them now and you'll be surprised how good it is. I hope you like it!
Before you start doing anything else, I always do recommend reading my tips first, that way, you  might want to follow some tips there that will affect your grocery-buying or the way you will cook and prepare some ingredients. Hope it helps 😉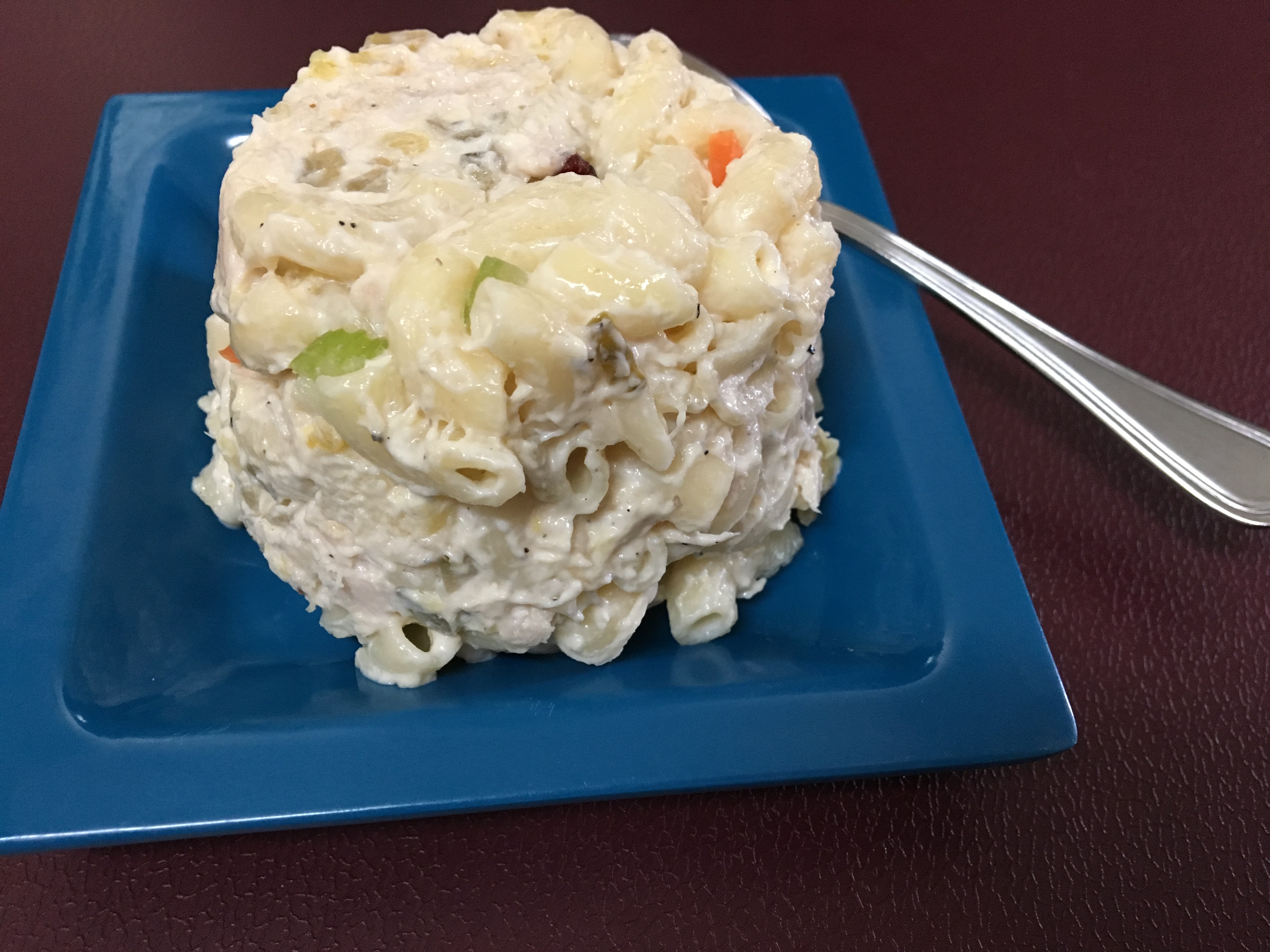 Prep Time: 25-30 minutes
Cooking Time: 45 – 50 minutes
Servings: 8-10
Ingredients:
1 lb elbow macaroni
chicken breast with bone
1/2 cup white onions chopped
1/2 cup carrots chopped
1/2 cup celery chopped
1/4 cup cranberry or raisin(per your preference)
1/4 cup pineapple chunks(drained and squeezed)
2 cups mayonnaise
1 tbsp mustard
1 tbsp sweet pickle relish
1/4 cup cheddar cheese(cut in very small cubes)
1/4 up walnut(chopped)(optional)
1/2 tsp ground black pepper
1 tsp pink salt(1/2 use for water while boiling and other half when you start mixing all the ingredients)
6 cups water
2 tbsp oil
2 pineapple rings for decoration on top
Directions:
Cut chicken in half or quarters and boil with bones in 8 cups water for 30-35 minutes or more if you want to make extra broth. Scoop them out and put in a jar or any glass container if you want to save some
Add 1 tsp salt while cooking
Once cooked, take out chicken and  start cutting and shredding in small pieces by using fork and knife since it is hot. Toss the bones
Let water boil once again, pour oil then the macaroni
Stir while cooking so they won't stick together
Cook for about 12-15 minutes
Put in a strainer and run under through cold water to stop overcooking and drain
Start shredding the chicken. You can either use your hands or you can use knife and fork to start cutting, and separating them. I always use gloves when shredding them. That way they won't get under my nails
In a big bowl put the shredded chicken, macaroni and all the stuff together
Keep mixing until it is blended well
Transfer into a nice serving bowl or platter and put the pineapple ring on top
Tips:
Clean and wash the chicken before boiling. While boiling the meat and the pasta, you can start chopping and cutting the ingredients to save time
If you plan to make any soup or stew(Turkey leftovers are great for this too), you can buy whole chicken and boil it for 60-90 minutes with more water. Save the broth and the meat in the freezer for later use. Or rather, make couple of dishes in that one day. You save time and steps in boiling, washing and cutting up
If you have no time to let the chicken to cool down, you can use fork and knife to start cutting up and shredding the meat versus doing all of them with your hands. I find this easier and faster
Another way of maximizing your time is you can plan and make chicken macaroni and cheese with using part of the chicken and the macaroni as well. you hit 2 birds in one stone
Optional: you can also add some apple cut in very small cubes. Make sure to soak them first in lemon juice to avoid getting dark
Try to put more chicken than usual if you worry about  consuming too much carb
Do you know that you can also make them as a spread? or even as toppings on your toasted bread. Try putting some in a bun or loaf, I'm pretty sure you'll like it!
Enjoy!
"Cookery is not chemistry. It is an Art. It requires instinct and taste rather than exact measurements". – Xavier Marcel Boulestin (French Chef)