Ampalaya Guisado
Prep Time: 25-30 minutes
Cooking Time: 1 hr
Servings: 4-6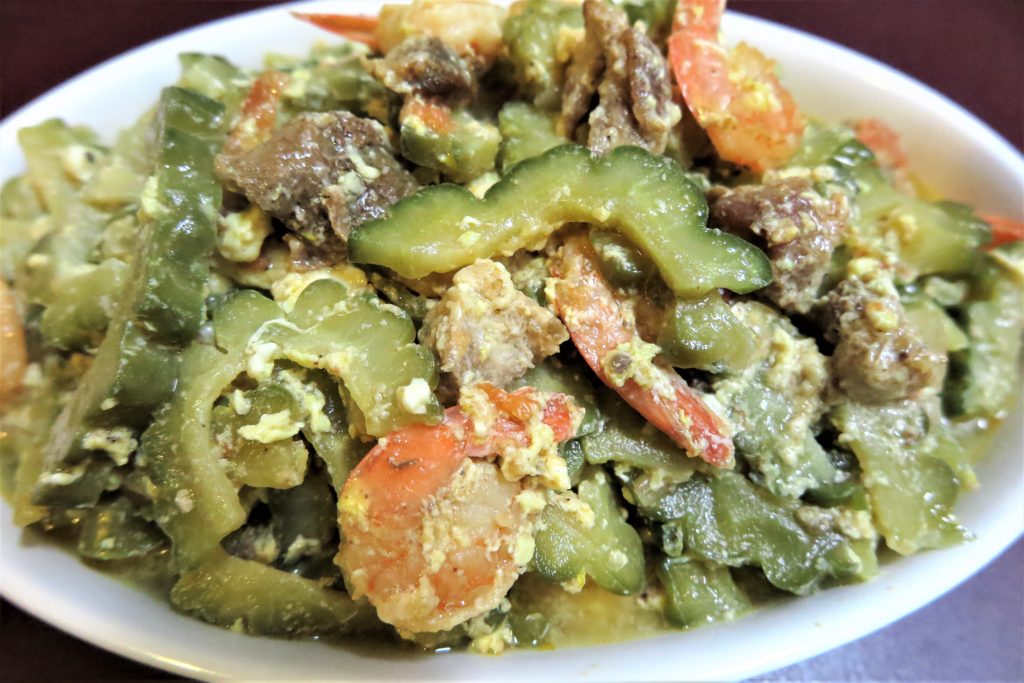 Ingredients:
2 medium bittermelon(scrap out the middle part of it and cut up into thin slices. Marinate in cold water with salt in it. Drain the water to take out the bitterness and do it once again
2 eggs
1/4 lb pork belly
1/4 lb peeled shrimp
1/2 medium yellow onion
5-6 garlic cloves
1 medium tomato
1 1/2 cup water
2 tsp fish sauce
1/2 tsp ground black pepper
3 tbsp. olive oil
Directions:
Boil pork in 1 cup water. Wait until it dries up then add oil
Toast pork until brown and crispy. Set aside
Sautee garlic, onions then tomato
Once brown and cooked, add shrimp. Sautee for about 4-5 minutes
Add fish sauce
Add pork then water. Simmer for 10-15 minutes
Add bittermelon. Do not stir yet. Wait for about 2-3 minutes
Simmer for another 10 minutes
Beat eggs and pour on the pan. Do not mix for the next 10-15 seconds.
Add ground pepper
Stir for a little bit
Turn off
Serve with rice
Enjoy!
Tips:
Marinating in cold water and salt takes off the bitterness of the bittermelon
Toasting the pork is the secret that adds more flavor to it
You can also jusy buy lechon kawali(roast pork belly) versus cooking the pork itself
"Cookery is not chemistry. It is an Art. It requires instinct and taste rather than exact measurements". – Xavier Marcel Boulestin (French Chef)