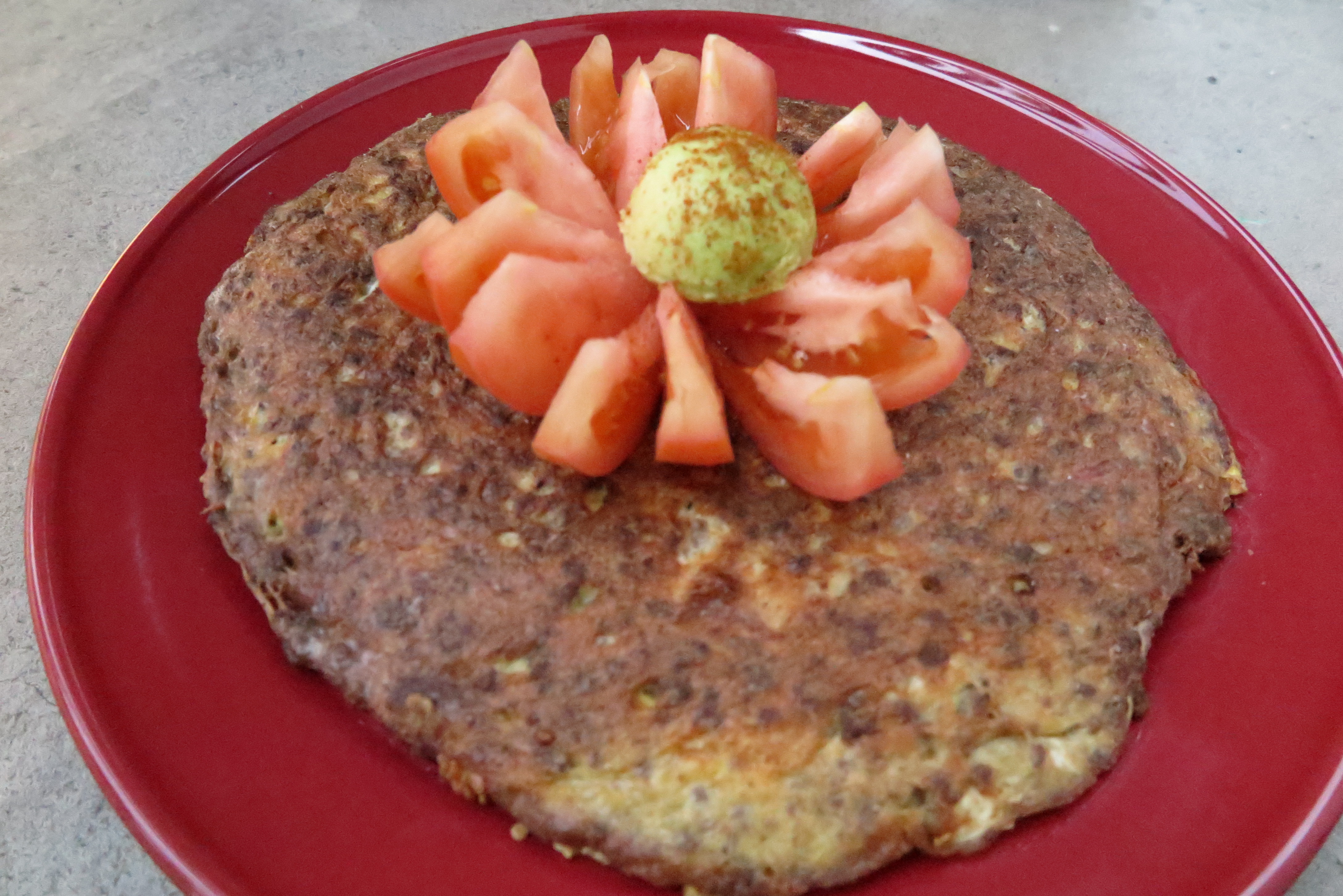 Prep Time: 20-25 minutes
Cooking Time: 1 hr
Servings: 5-7
Ingredients:
2 lbs ground beef/pork
1/2 white onions (chopped)
1 tomato(sliced into cubes)
5 cloves garlic crushed n chopped
1 medium potato cubed
1/2 red bell pepper chopped
2 tablespoon soy sauce
salt and ground black pepper to taste
1 teaspoon white sugar
1/2 cup of water
1-2 pieces of bay leaf
Instructions:
– Sautee garlic, onions and tomatoes until well – cooked.
– Add ground beef. Cook until brown then add soy sauce, bell pepper, ground black pepper and salt.
– Pour water and add potato. Let it simmer under slow fire for about 15-20 minutes or until potato is cooked and has dried up. This dish has to be dry, that way the eggs will incorporate well with the meat.  Once all dried up, turn off. Set it aside and let it cool for around 15-20 minutes
– In a medium bowl, beat 3-4 medium eggs, just enough to cover the meat mixture (depends on egg's size) Make sure the mixture is not too runny.
– Heat up a small pan into low fire and add only little oil enough to cover the base of the pan. After adding the meat,  use a ladle to scoop it and place on the heated pan.
– What I do is, I put the meat enough just to cover the base of the pan(not too thick if you like a little crunchy on the edge)
– Using a flat and wide ladle, flip the meat to cook on the other side. Cook for another 4-5 minutes
– Turn off and serve with rice and ketchup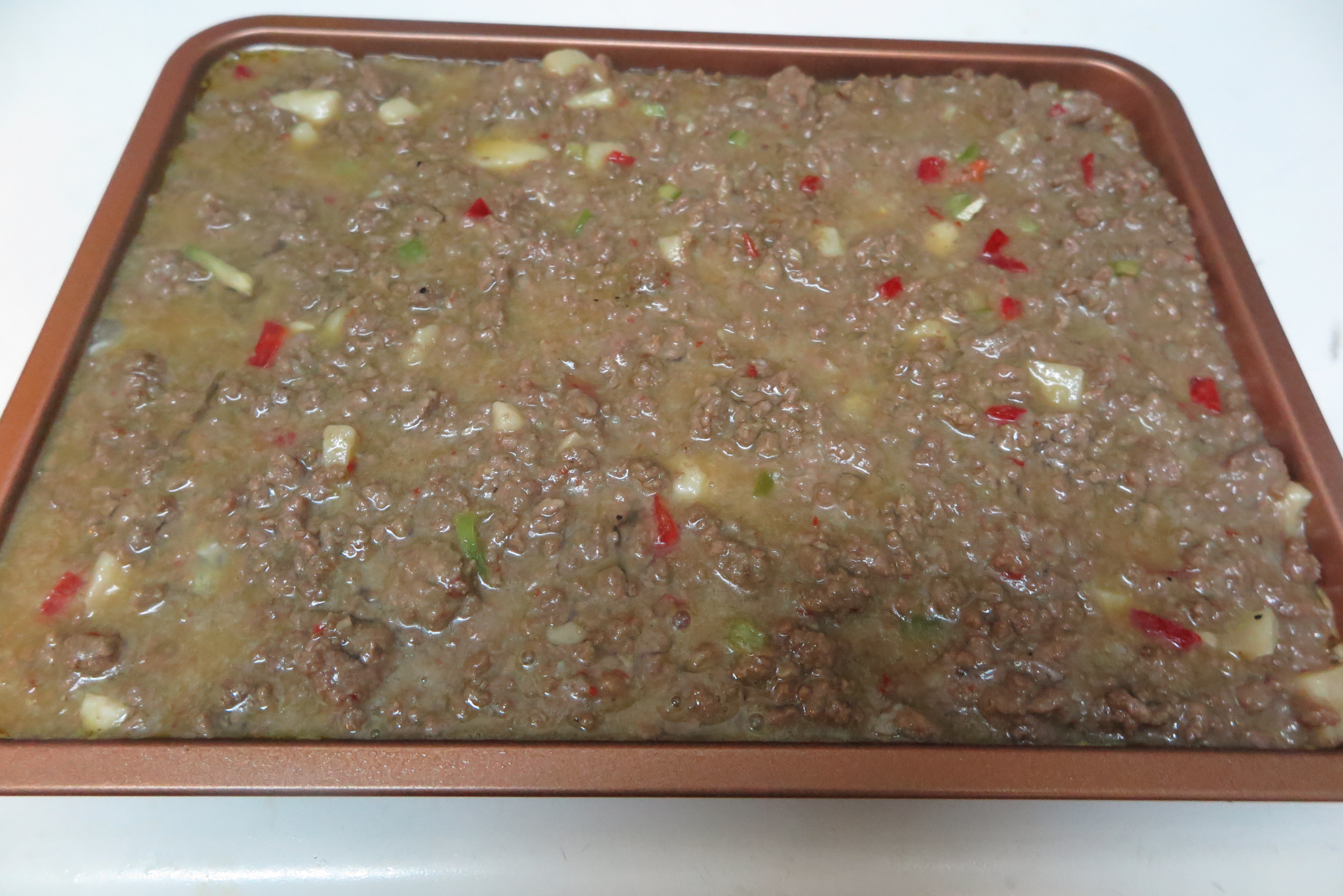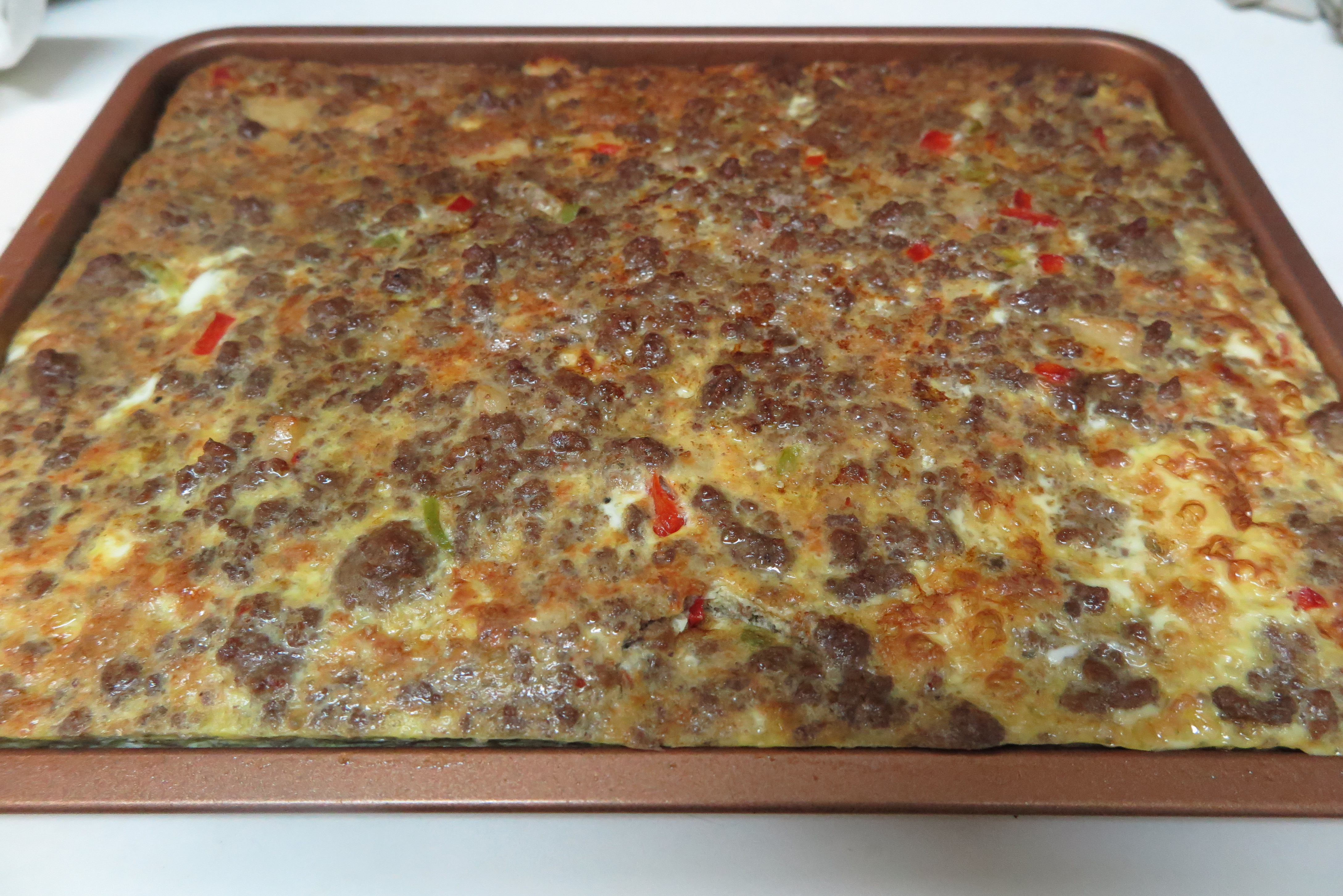 NOTE/TIPS:
– The old way for us to cook this is to fry them in small scoops like a crab cake/pancake size. Although this takes time but It gets crunchy on the edge and that's what makes it really good!  But you can also bake it instead of frying one by one. This saves you more time, your energy and last but not the least, cooking oil. 😛 Just pour the mixture on any baking tray/dish that is oven safe, bake in a toaster oven for like 10-20 minutes, then broil for the last 3-4 minutes.
– You can cook in big batch like doubling or tripling the recipe and save them for later use. I normally buy 2 sets of the organic ground beef from Costco (about 4 lbs for 3 packs) and sautee altogether in a big pan then divide in batches and freeze depending on what recipe you have in mind.  Recipes like tacos, spaghetti, picadillo(ground beef w tomato sauce and peppers), gising-gising(sautéed ground beef with long beans), ginataang hipon(shrimp w coconut milk) all uses ground meat.
– Please note that if you decide to double the recipe, scoop out the dish once browned and before adding the potatoes. As some of your recipes might not need potatoes. Remember that you would still need to add necessary ingredients per dish you plan to cook. At least the part of chopping onions, garlic, sauteeing and washing has already been eliminated. This is already a bonus!
– When I cook my omelette, I tend to be really careful on flipping it. Being a perfectionist, I really hate it when I break it and don't get it perfectly without breaking. Overtime, I have come to master it and my family always gets amazed because they know it's not that easy. You can practice it too but upto you if you're willing to do it but as they say practice makes perfect ;p
– We use ketchup(tomato or banana) to eat with this. Some people prefer tomato and some want banana ketchup with it. Yes! Banana ketchup! Try it! You might like it(wink, wink)
– Just like any other recipe, you can also modify the way you want it to. You can use either ground pork, chicken or turkey.
"Cookery is not chemistry. It is an Art. It requires instinct and taste rather than exact measurements". – Xavier Marcel Boulestin (French Chef)