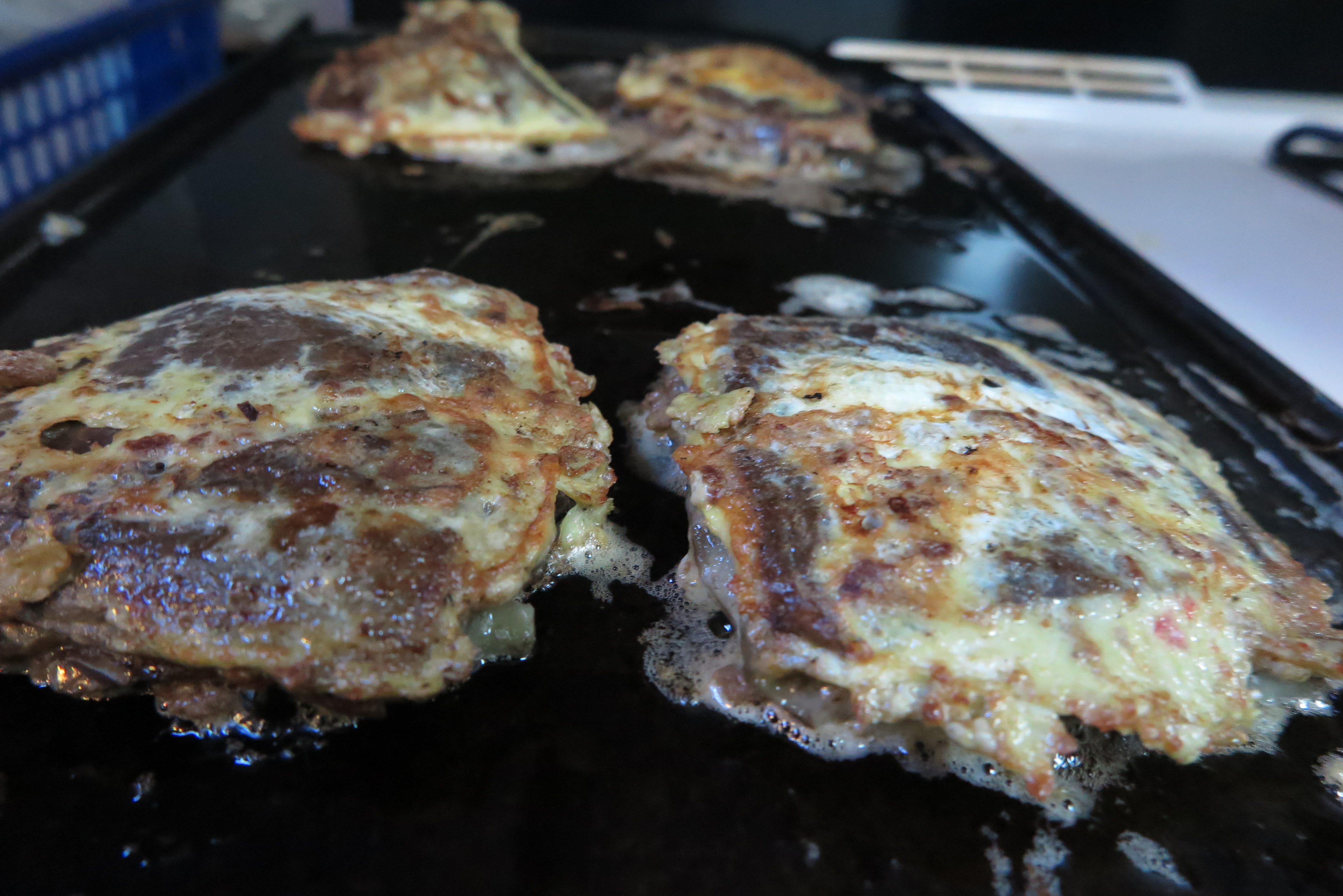 How to cook Tortang Talong(Eggplant Omelette)
This is a famous vegetable recipe and one of the most-loved dish by Filipinos. However, due to the time and process it requires, either they would just buy or order as take-out, or disregard their cravings to eat them and forget all about it. The usual process is grilling the eggplant until it becomes soft then peeling the skin and kind of mushing it so that meat and egg mixture will lay flat on top of it. This adds great flavor to it. When I have time and in the mood to grill, I do it. However, if I'm lazy and don't have much time, the way I make them is way easier and faster. I just boil them for a few minutes and I don't peel the skin. You  get more fiber by not peeling it.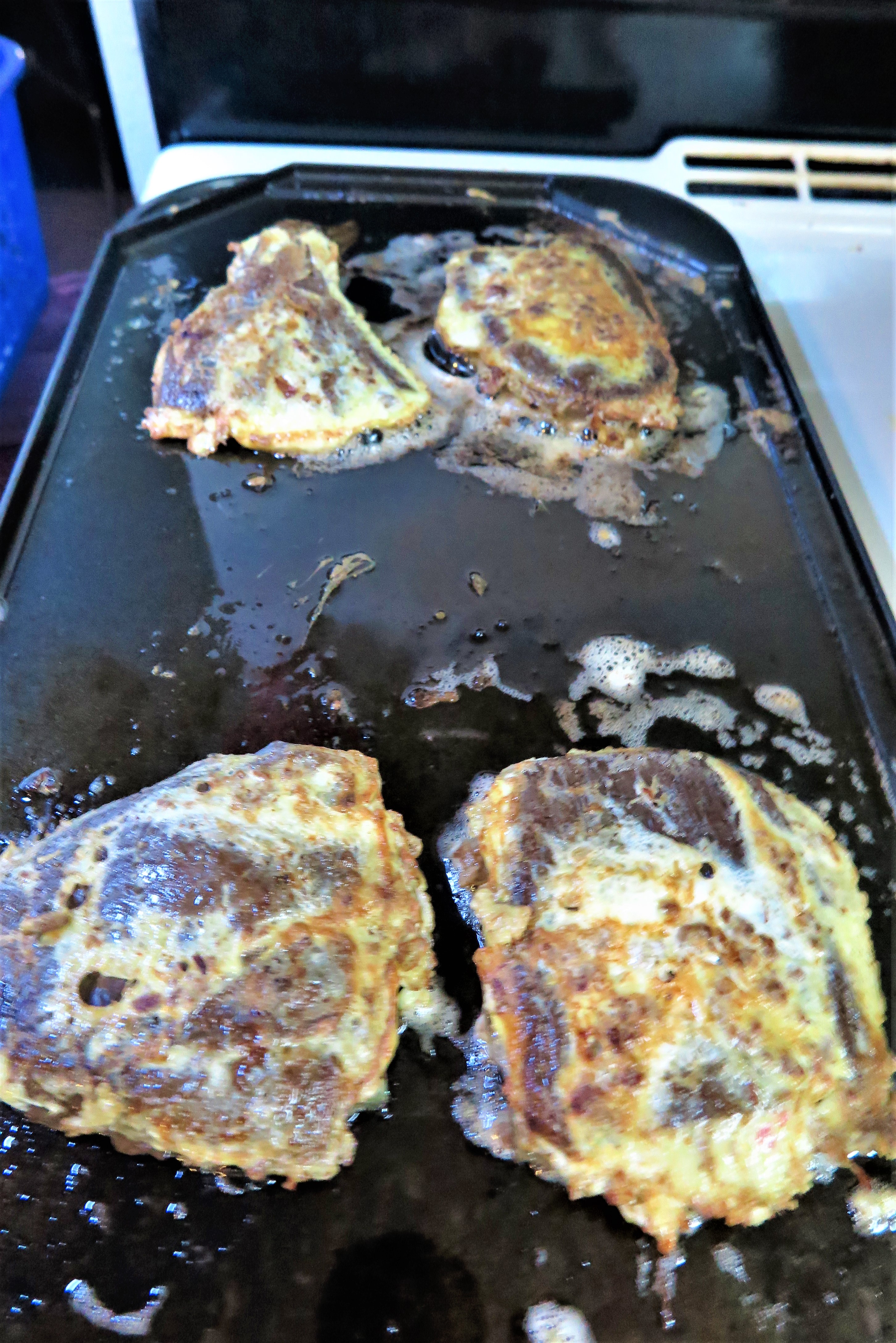 eggplant omelette
Prep Time: 15-25 mins
Cooking Time: 45 mins-1 hr & 15 mins
Servings: 6-8
Ingredients:
1/2 cup cooking oil/olive oil
1/2 medium white or yellow onion(chopped)
4 cloves of garlic(chopped)
1/4 cup of red bell pepper(chopped)
1/2 lb ground meat(pork, beef or chicken)
2 cups water
4 medium Filipino or Japanese eggplants (cut in half if too long/big)
3 eggs(beaten)
1 tbsp soy sauce
2 tbsp salt
1 tsp ground pepper
Condiments:
1 cup banana ketchup(yes banana ketchup)
2 tbsp kalamansi juice or lemon juice
2 tbs of soy sauce
1 crushed chilli pepper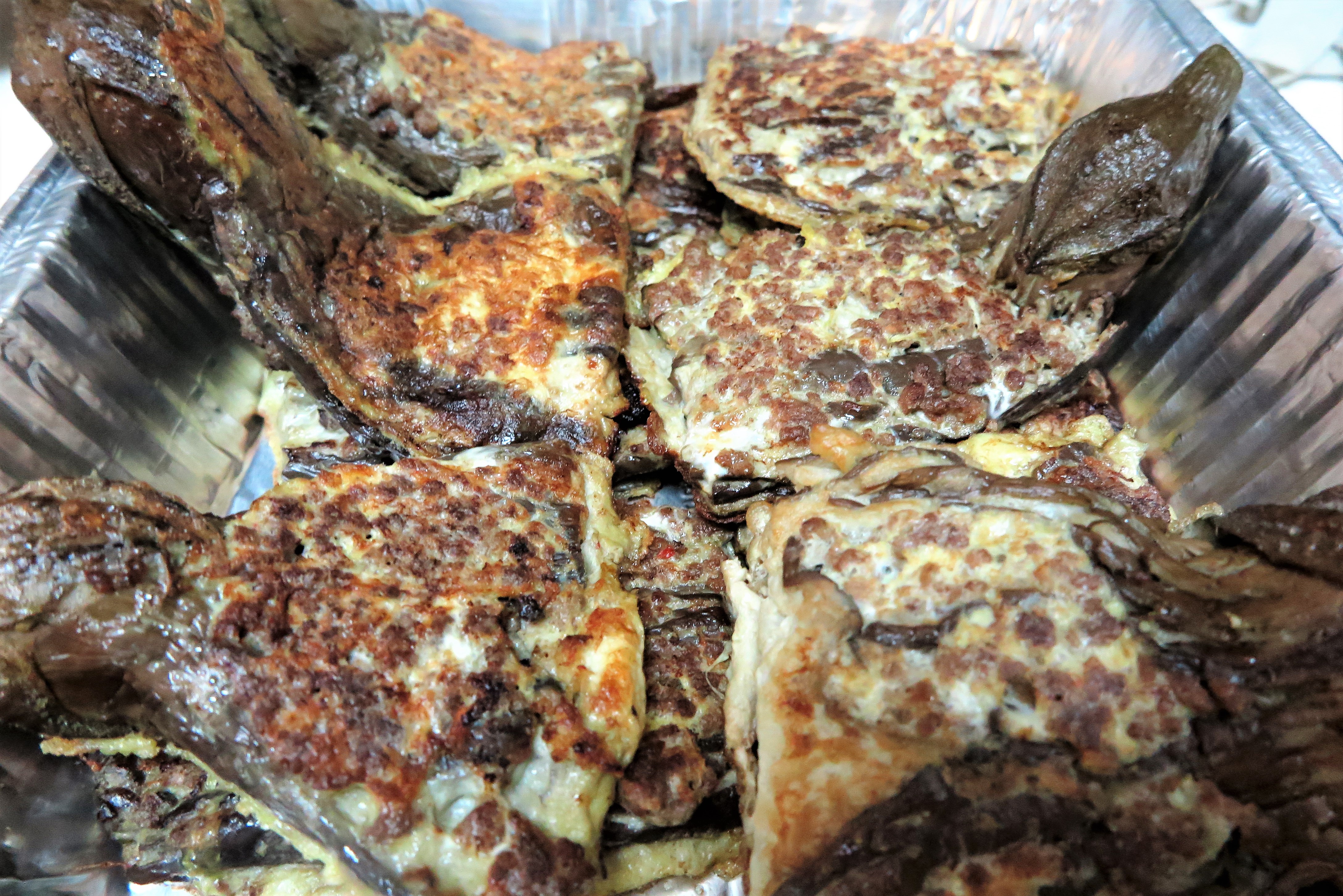 Directions:
1. Poke eggplant with fork. Just enough so that they cook faster. Boil water.
2. Put 1 tbsp of salt only then boil all the eggplant for about 10-12 minutes
3. With your frying pan, you can start sauteeing the onions, garlic, red bell pepper and meat in 1/3 cup of oil while boiling.  Save the rest of oil for frying the eggplant. Simmer until dried.
4. Drain eggplant once cooked. Let it sit for few minutes
5. Once meat is cooked and dried up, put soy sauce and half teaspoon of salt and half of teaspoon of ground pepper. Stir. Let it cook for about 3-5 minutes. Turn off.
6. Beat eggs in a medium size bowl big enough for eggplant to fit once you dip it. Add the remaining salt and ground pepper. Add meat. Stir.
7.  Then put the eggplant one piece at a time. Be careful not to mush the eggplant as it is already soft.
8. Heat up frying pan in low fire. You can use the first one you use.
9.  Scoop the egg and meat mixture with a spoon and pour on top all over of eggplant
10. Once covered with the egg mixture, Using your widest spatula, transfer to the pan and fry for 4-5 mins each side.
11. Flip the omelette to cook on the other side.
12. Turn off once done.
13. Serve with steam rice and your type of condiment.
Enjoy!
Tips:
Sometimes it's hard to find one small size eggplant(1 serving portion). So what I do is, If I find a medium size, but still long in size, I cut it in half. Also, I make it sure that the stem in the crown is present. This way it is easier to flip them when you're frying
As I mentioned above, you have the option to grill or to broil. To peel or not to peel. And to have meat or no meat. This is a free country. Cook it according to your preference. It's your choice 🙂
Ground meat: When I cook anything that uses ground meat i.e spaghetti, ground beef omelette, tacos, meatball soup, etc,  I usually cook a big batch of the ground meat(usually 6-8 lbs), sautée them and divide in portions then freeze for later use.
We normally cook this dish with ground meat. But that doesn't mean it should stop you from eating it if you don't like meat. Just skip them if you prefer meatless
Condiments: Some people prefer eating this with ketchup on the side. I do and with hot sauce. Some dipping them in soy sauce and lemon/kalamansi mixture
Using a wide flat ladle/spatula to scoop up the eggplant when frying helps a lot.
"Cookery is not chemistry. It is an Art. It requires instinct and taste rather than exact measurements". – Xavier Marcel Boulestin (French Chef)