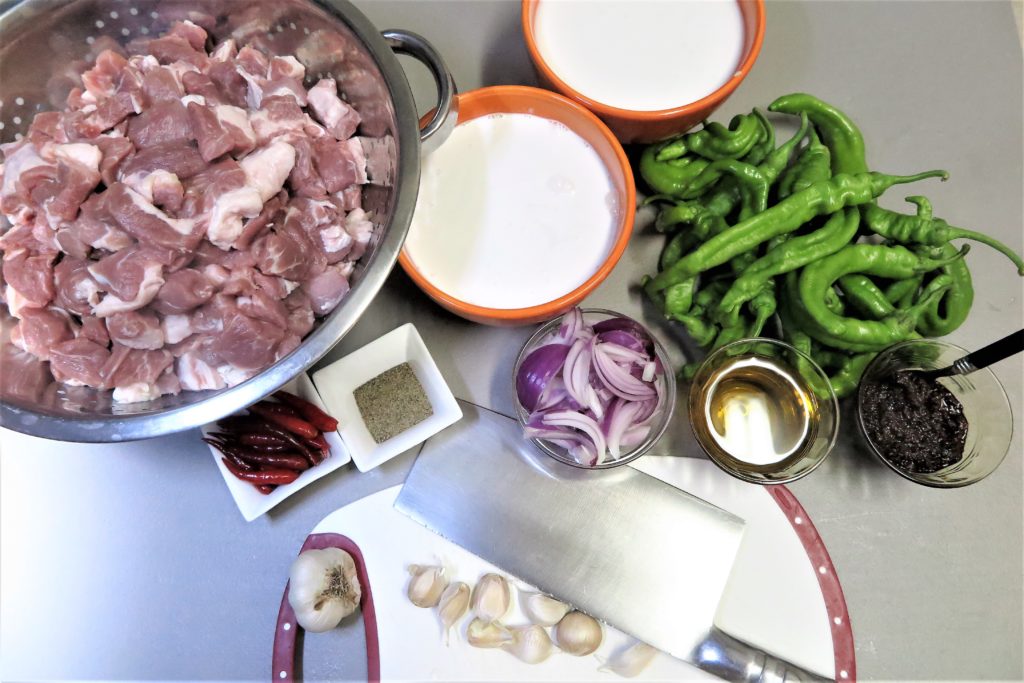 How to cook Bicol Express(Spicy pork in coconut milk)
Philippines is divided into three island groups which are Luzon, Visayas and Mindanao.  Luzon, where Bicol is located, is also the biggest island of all three. The Mount Mayon volcano can be found here, that's why they are also one of the most visited region in the Philippines. It has 6 provinces: Albay, Camarines Norte, Camarines Sur, Catanduanes, Masbate, and Sorsogon. Bicolanos are known for eating a lot of spicy foods. When I say spicy, It is really, really peppery hot and spicy. They even eat chillies and peppers by itself like peanuts and straight into their mouth! Surprised? How about eating chillie flavored ice cream ehh?  And eating fruits like pineapple and mangoes with chillies mashed with salt in it? Hmmm, salivating just thinking of it right now. Well, I guess, I have adapted that trait too cause I love chillies and I can eat them by itself too! (I am not kidding…you can try me….;p)
Besides spicy foods, they are also very popular on creating every dish with coconut milk  because of the abundance of it in the region. Dishes like Laing(taro leaves), Ginataang Sigarilyas(Winged Bean in coconut milk), Ginataang Santol(Cotton fruit in coconut milk), Tinutungan(Simmered meat in burnt coconut sauce) and of course the recipe I am covering here, Bicol Express. And many more…
I am telling this story because I want to reminisce my experiences while growing up for those times I have spent there. Although I am not a Bicolana(I am half-Ilocana, from my mom), I grew up visiting this area(Manga, Oas, Albay to be exact) every year(for about 6-7 years) during my teenage years. My stepmom, who is a Bicolana, always goes home to her side of the family to celebrate the barrio fiesta(town's yearly feast). Considering it also falls on my birthday, makes it more grandiose. The townhall, which is just about 100 steps away from the house we stay, is being decorated and setup with a dance floor and there's a band playing, where everybody is welcome. This goes on for two days. It can't get any better than that on your birthday, can it? Everybody prepares a lot of food and serve drinks from their houses. There were a lot of fun, scary, happy, memorable moments everytime we go there together with my sister, brother, cousins, nieces and nephews. We would all jump in the caravan, loaded with drinks and snacks as we enjoy the roadtrip for around 9-10 long hours, but definitely worth it! After halfway of the ride will be a stopover to eat at a restaurant and a pitstop. So you could imagine how fun that is with your fambam!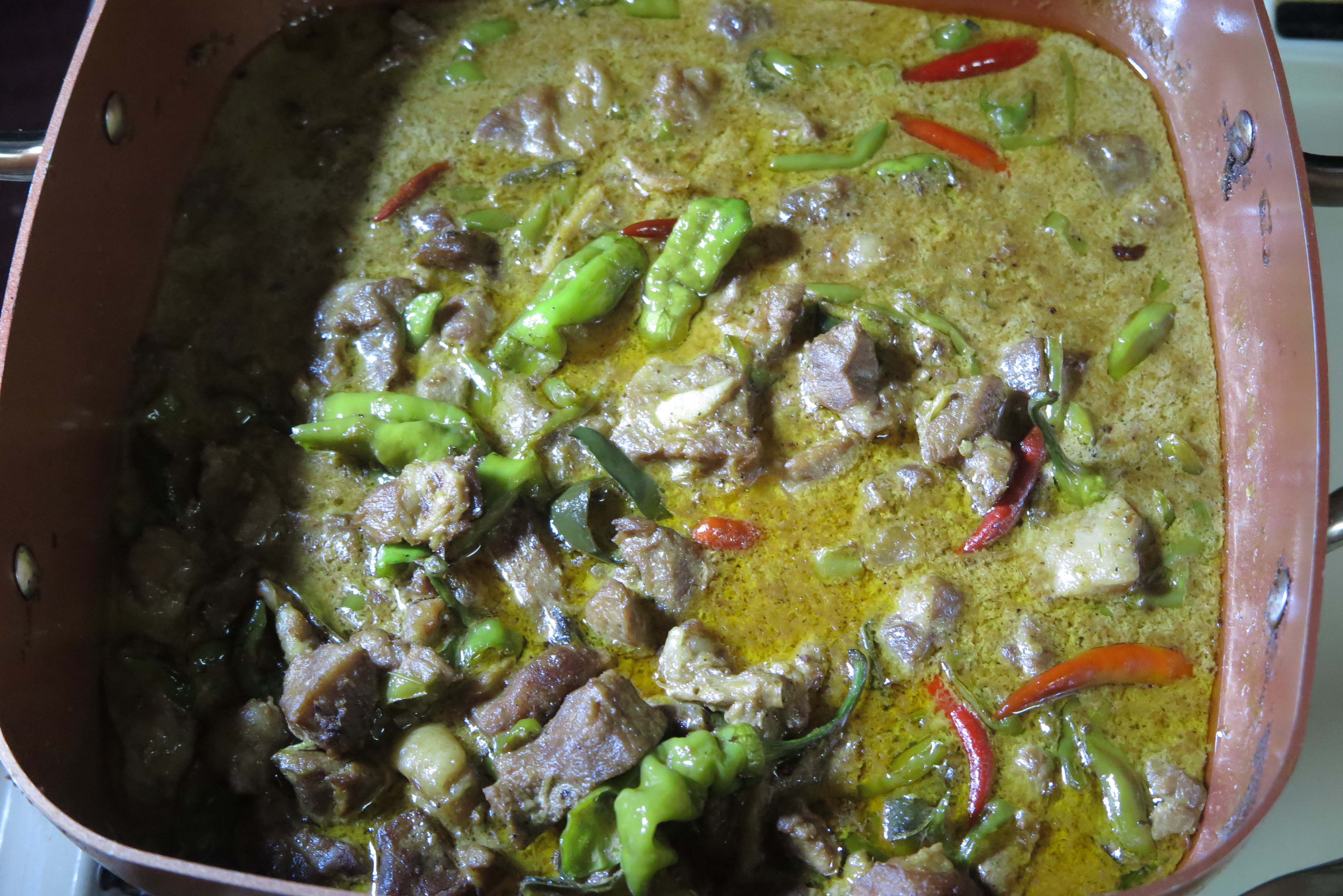 Prep Time: 20-25 minutes
Cooking Time: 1hr & 1/2
Servings: 6-8
Ingredients:
2 lbs pork butt or pork ribs(cut in strips)
2 cans of medium coconut milk
1/2 cup bagoong(Barrio Fiesta or Pamana shrimp paste)
1/2 medium white or red onion(sliced)
5-6  cloves garlic
1/4 cup sliced ginger root
1 cup of sliced Anaheim peppers(long, green sweet pepper)
6 pcs red chillies(3 chopped and 3 uncut)
1/4 cup olive oil
2 cups water
1/2 tsp ground black pepper
Directions:
1.  Boil pork in 1 cup water first. When dirt starts coming out, boil for another 5 minutes then wash and drain. Boil again with 1 cup water until it dries up.
2. Pour oil and fry pork for about 5-7 minutes
3. Move meat aside on the pan and put ginger, onions then garlic and sautee.
4. When browned and cooked, mix in the meat and put the 3 chopped chillies and Anaheim peppers. Sautee for 5 minutes.
5. Pour the shrimp paste and mix then pour coconut milk. Let it simmer then keep stirring for about 5 minutes. Set fire into low and simmer for another 30-45 minutes, stirring in between.
6. Taste if it already suits your palate. If sauce is too runny, simmer for few more minutes.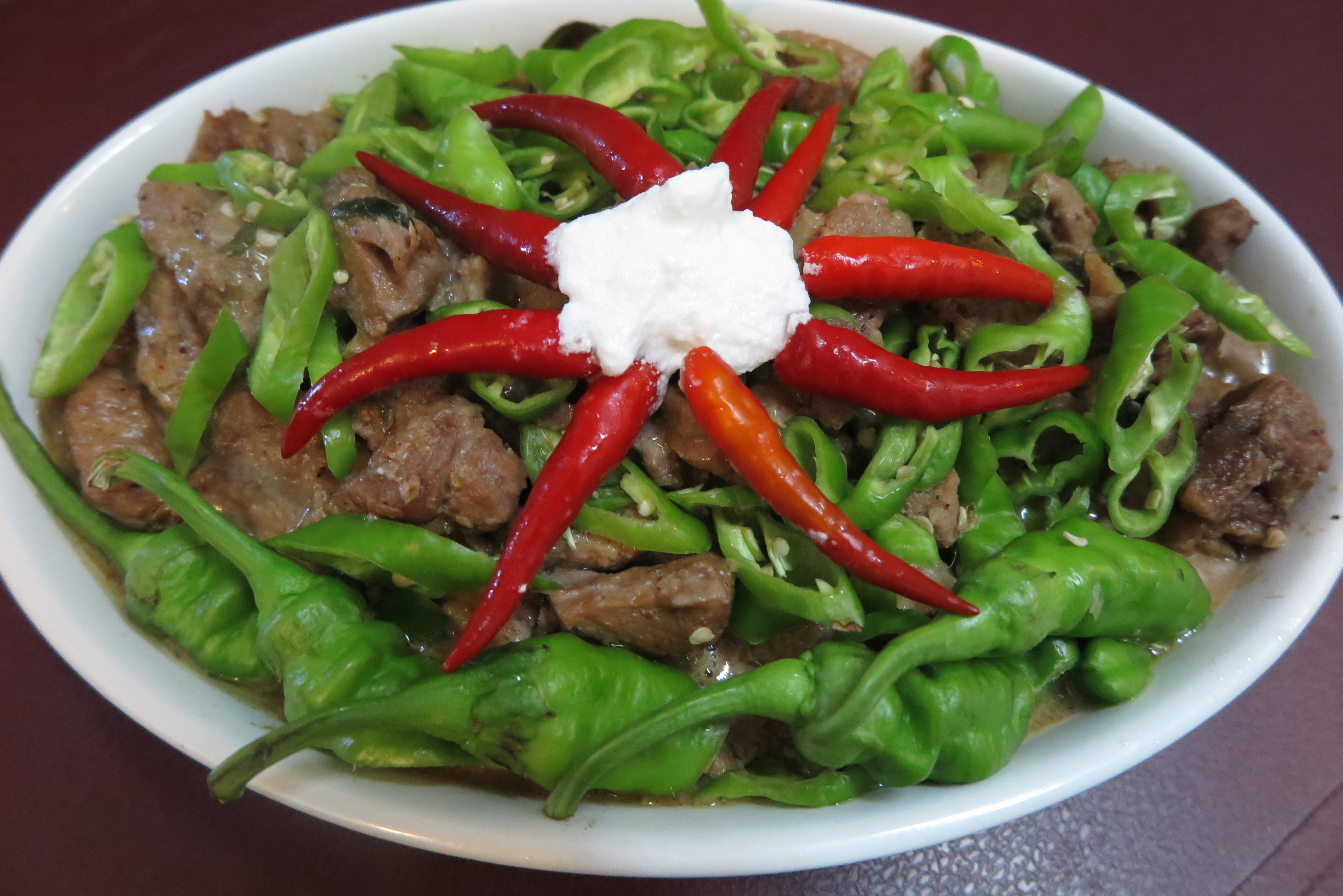 Tips:
You can adjust the chillies you want to use depending on your preference. Jalapeno is also ok if you're not able to find chilli peppers
You can use as much as Anaheim peppers you want since they are not really spicy. I put a lot since they really bring up more flavor to the dish and it is considered as vegetables so I love that!
You can use different types or part of pork. Butt or pork ribs with or without skin is upto you. I use a little
"Cookery is not chemistry. It is an Art. It requires instinct and taste rather than exact measurements". – Xavier Marcel Boulestin (French Chef)
Author: Theresa Marcelo