Spaghetti (Filipino Style)
Ingredients:
1 lb ground beef
1 lb ground pork
1/2 lb hotdog (filipino hotdog), diagonally sliced
2 medium can of tomato sauce
2 cups of banana ketchup (could be regular or spicy-depends on your preference)
1/4 cup red bell peppers, chopped
1/4 cup onions, chopped
1 head garlic, minced
4 tablespoons of olive oil
3 tablespoons of soy sauce
5 tablespoons of sweet pickle relish
Salt and pepper to taste
1 cup grated mild cheddar cheese (half used for cooking and the other half for toppings)
1 lb spaghetti noodles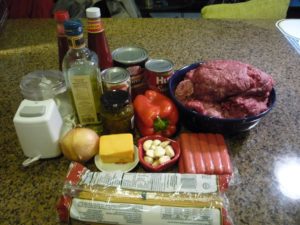 Spaghetti Cooking Instructions:
Sauté garlic and onions in olive oil.
Add ground beef, ground pork, bell pepper. Add soy sauce. Simmer for 20-30 minutes until  meat is a little toasted. This is what makes it taste so flavorful.
Add tomato sauce, banana ketchup, salt and pepper to taste then let simmer for another 10 minutes
Add cheese (1/2 cup only), relish and hotdogs. Continue to simmer (low fire) for an additional 15 minutes or until color becomes orange red. The longer it simmers in low fire, the better.
Boil spaghetti noodles according to package instructions. Pinch of salt is okay. Don't forget to pour a little bit of olive oil so that the pasta won't stick after it's cooked.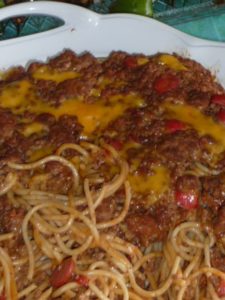 Tips:
Ground meat can be substituted i.e. ground chicken or ground turkey
If you don't want to use red hotdog, it's okay to just use the regular ones
Leftover noodles can be cooked as garlic noodles. I like cooking and having some extra noodles. Just sautee with butter, olive oil, garlic and little bit of salt and grated parmesan cheese. Toss some shrimps or chicken. Toast some French bread to go with it. Voilahh! Your kids are gonna love it. You have just made another new meal in under 10 minutes!
I like eating it with roasted veggies on the side or side salad
Topping it with sundried tomatoes and/or some black olives