Cooking Pinakbet is a popular dish that is commonly cooked every Filipino family you will know. It traditionally consists of pork, shrimp and mixed vegetables, simmered in shrimp paste(bagoong alamang). Vegetables like Chinese string beans, squash, okra, bittermelon and eggplant are commonly used for this dish. You can use either shrimp instead of pork, or both, none at all if you want to be vegetarian style. If you are a vegetarian, you can still enjoy them without adding meat. The tender and earthy sweet taste of the squash, the crunchiness of the green beans, the bitter taste of the bittermelon and the slimy texture of the okra, makes this dish interestingly awesome. Although not for some, due to the slimyness of okra and the bitter taste of the bittermelon, plus the pungent taste of the shrimp paste.  For me, the taste and texture of each of these vegetables is what gives character and makes this dish delicious. Enjoy!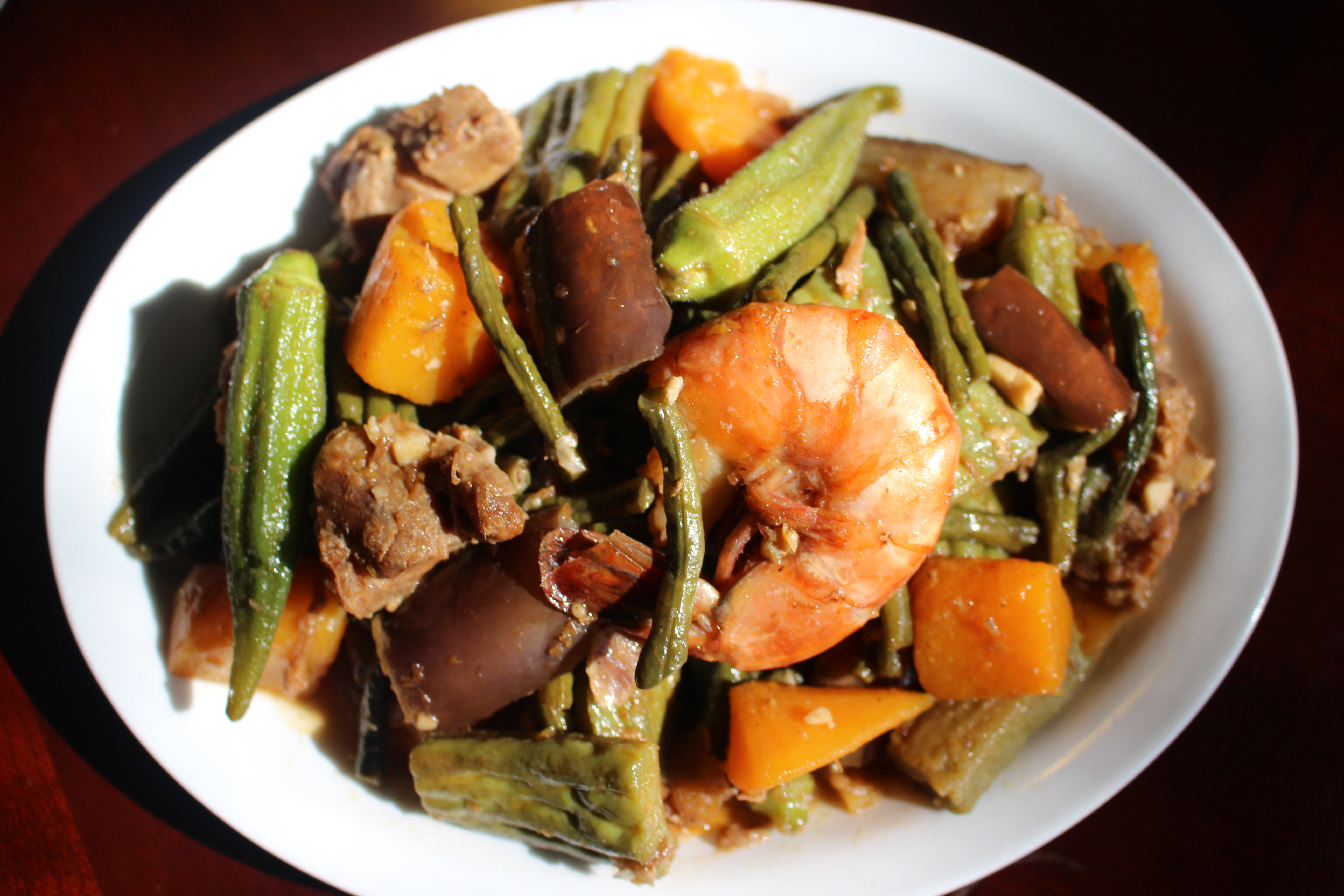 Prep Time: 20-25 minutes
Cooking Time: 1 hr
Servings: 5-7
Ingredients:
1 tbsp

olive oil

1 lb pork, sliced into cubes

1

lb

medium shrimp,

shelled and deveined

1/3

cup

sautéed shrimp paste (bagoong alamang) or anchovy sauce (bagoong balayan)

2

cloves

garlic,

chopped

1

tomato,

cut into wedges

1/2 small onion, cut into thin wedges

1

lb

 

squash,

peeled, deseeded and cubed

2 cups

water

1

Chinese or Filipino eggplant,

sliced into the diagonal (1-inch thick)

1

fresh bittermelon,

halved, deseeded and sliced into the diagonal (1-inch thick)

½

lb

fresh okra

½

lb

 

Chinese long beans,

ends trimmed, cut into 2 inches long

2

serrano peppers

(optional)

1/2 tsp Himalayan pink salt
Directions:
1. Boil pork in 1 cup water. Add salt. When dried up, add the oil and fry until they get brown and crunchy  for a little bit. Set aside
2. Sautee garlic in the same pan. Add onions, then tomatoes. Wait unitl softened
3. Add the shrimp paste/anchovy sauce and simmer for 5 minutes. Add the 1 cup water. Let it simmer again for 5 minutes
4. Add squash first as this is the hardest one, simmer for 5-7 minutes, then add long beans and simmer for about 5 minutes. Stir. Add pork.
5. Add bittermelon. DO NOT STIR for 3-4 minutes. Let it simmer, then add eggplant. Wait for 5 minutes. Stir. Then put okra and let it cook for around 3 minutes.  Stir then turn off
6. Serve with steam rice
Enjoy!
Tips:
To take off bitterness on bittermelon, soak in cold water with a teaspoon of salt for 10-15 minutes then before rinsing, try to rub bittermelon with each other to take out the bitter
Soak eggplant in water after slicing and before cooking as they turn darker when exposed to air
When buying squash, it's hard to find small ones good for one batch of cooking. What I do if I have no choice is that I peel all of them and boil the rest that I can't use then store in freezer. This can be used for other recipe that you like i.e. squash soup, simmered shrimp in coconut and long beans etc
If you want your vegetables more softer, feel free to simmer a little longer
"Cookery is not chemistry. It is an Art. It requires instinct and taste rather than exact measurements". – Xavier Marcel Boulestin (French Chef)