Growing up, my dad always cooks this Chinese herbal soup that he calls "Go Kong". It is an aromatic dish that is very nutritious, calming and comforting once consumed. The smell that fills my entire kitchen when I cook this soup is just simply amazing! The herbal aroma of it everytime I cook it now just brings back a lot of memories about my Dad and my childhood. How I missed him so much. The soup consists of different types of chinese herbs named "sibut", as how we call it. Sibut [si-boot] soup is popular among Chinese and mainly uses chicken only as the main meat ingredient. But whenever, my Dad makes it, he puts different types of meat as well so this is how we got used to eating them and that makes it even more flavorful. This is really great especially winter or rainy season or whenever weather is a little bit cooler for it is some sort of a healing and comforting food.
Prep Time: 25-30 minutes
Cooking Time: 90 minutes
Servings: 8-10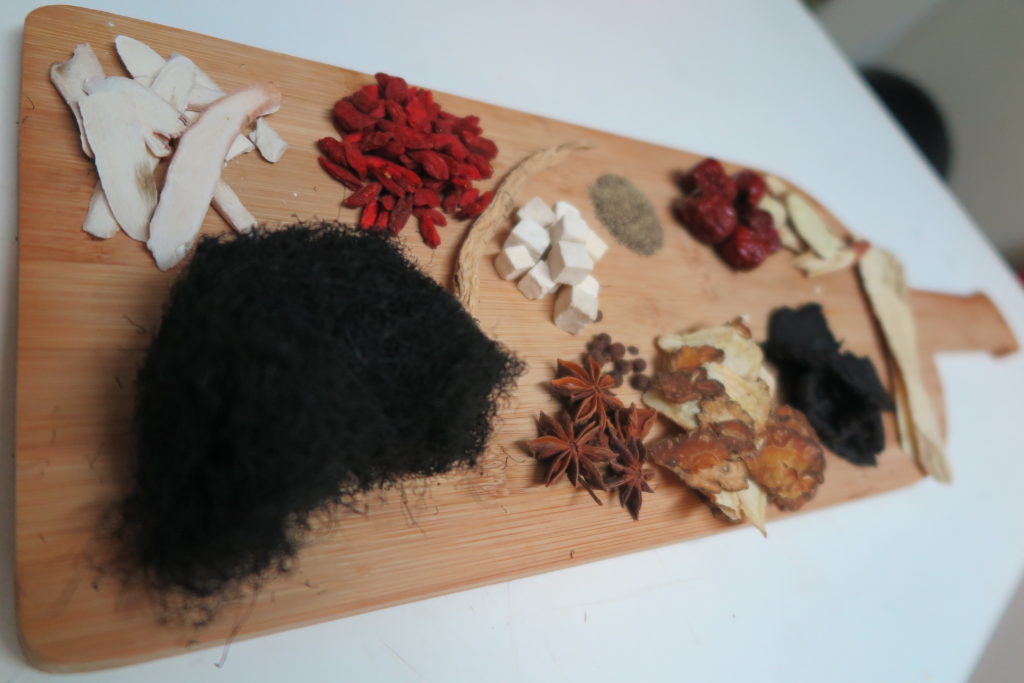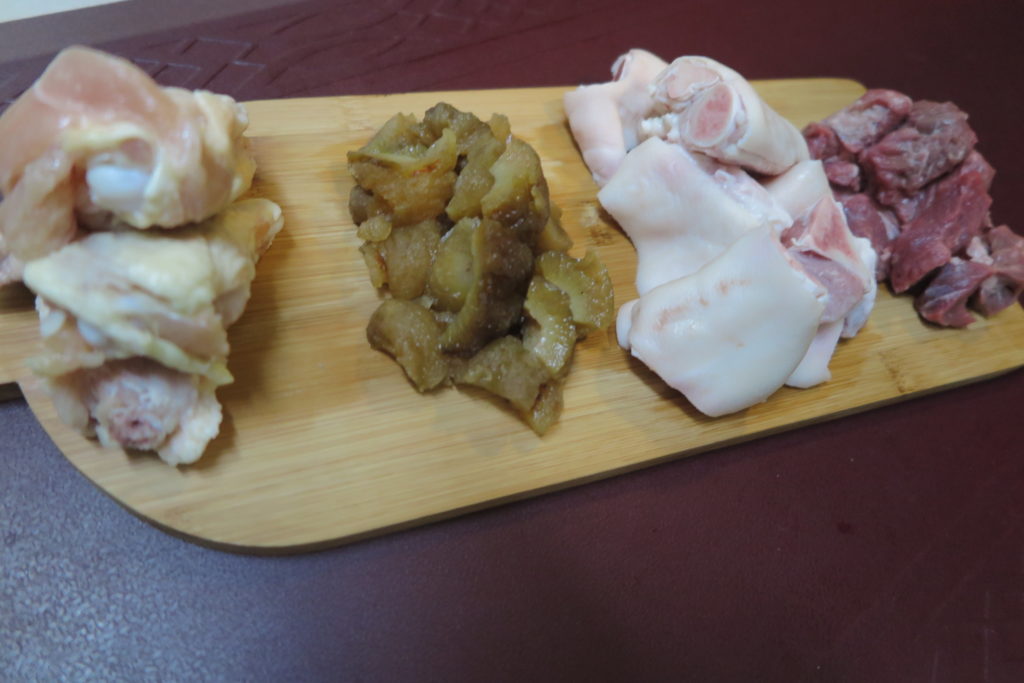 Normally, between 4-6 herbs are only used for each recipe. However,  I want to maximize the health benefits of these herbs when I cook them so I add couple more to have a more stronger flavor. (See lists above). Each herb has their own healing properties that is really beneficial to our body. Chinese herbs have been used since ancient times for cooking to promote general well-being and for good health maintenance.
Ingredients:
1 lb chicken wings
1 lb beef shank boneless(cut into small cubes)
1 front pork feet with hock(request to have it cut by the butcher and take out the end part of the feet)
1 cup sea cucumber(cut into cubes)
1 lb beef tendon
1 cup small shitake mushrooms
1 small Japanese raddish (cut into cubes)
3-4 pcs Dried Chinese Yam
1/2 cup Wolfberry Seeds or more known as Goji berries
6-8 pcs Dried tofu(optional)
3-4 pcs Dried Dates
3-4 Chinese Angelica Root
1/2 cup Black Moss(Fat Choy) (optional)
3-4 pcsStar Anise
3-4 Whole Allspice
3-4 pcs Rhizoma Ligustici,
1-2 Black Chinese Tamarind(use less for lighter soup color)
1-2 Astralagus
1 tsp ground black pepper
3 tbsps pink salt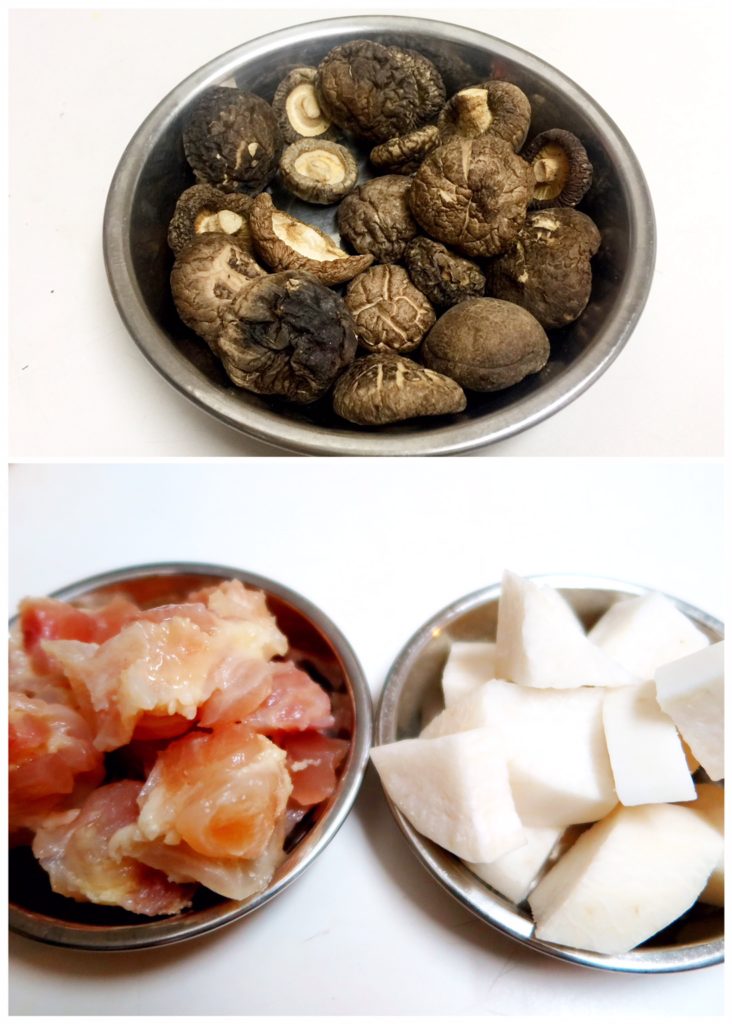 Directions:
Wash all the herbs and meat before cooking
Soak mushrooms in water to soften. After 15 minutes, throw the water away, squeeze and drain water from mushroom and soak again.
Boil beef tendon as this is the longest one to boil since they are really tough. Boil for about 75-90 minutes and add to soup for the last 10-15 minutes of simmering.

Bring a large pot of water to a boil. Add in the chicken, pork and beef. When you start seeing the dirt coming out, let it boil for another 5 minutes, discard the water and rinse the meat to get rid of the scum. Pour in 12 cups of water and let it boil

Add in the pork hock and beef only. Add salt and all the herbs except the goji berries. Let it boil for 45-60 minutes.

Turn to slow fire. Add chicken, tendon, raddish, mushroom, and sea cucumber and boil for another 20-25 minutes.

Taste and season with salt to your preference or if needed. Add more water if you prefer it to be soupier.

Turn off and add the goji berries.

Can be eaten with rice or by itself.

Finished product of Go Kong soup
Tips:
Any type of meat you want to use is optional. Sometimes, we also add shredded chicken breast, chicken feet, pork ribs and/or beef tendon. My dad used to use native black chicken as it is more flavorful. However, the meat is more tough so I just prefer to use the regular chicken.
Amount of seasoning of the herb is also adjustable. It is upto your preference. I like mine pretty strong so I can taste and savor all the herbs in it ;p
The black moss(hair vegetable) is optional as well since I know that some people would find it weird to eat something that looks like a hair ;p
Add more dried dates if you want it to be on the sweeter flavor
You can keep this in a freezer for 3-5 weeks and still taste as flavorful as it is. Feel free to boil more raddish and mushrooms to add to it
I have yet to try to eat it with noodles, like Bo Kho noodle soup Vietnamese style. I'm pretty sure, it is also good as it can be
Enjoy!
"Cookery is not chemistry. It is an Art. It requires instinct and taste rather than exact measurements". – Xavier Marcel Boulestin (French Chef)