Beef Liver with onions
Prep Time: 25-30 minutes
Cooking Time:  1hr
Servings: 4-6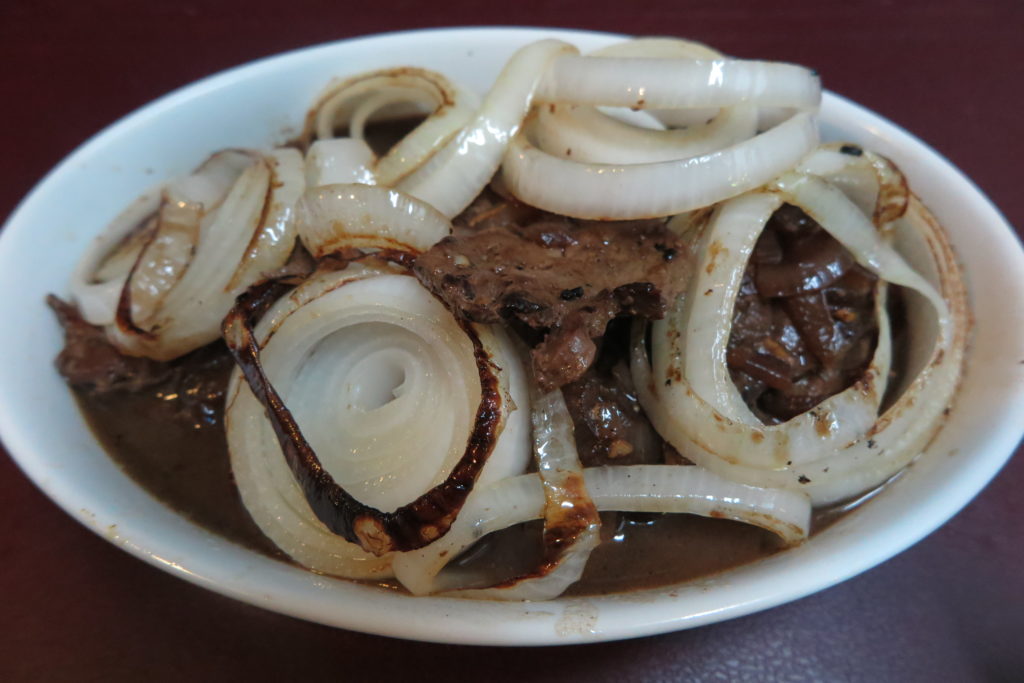 Ingredients:
1 lb beef liver ( sliced thinly, 1/3 inch,  and into half size of your palm)
1 big white onion
1/3 cup soy sauce
1/4 cup lemon juice
1/2 tsp ground black pepper
1/2 tsp Himalayan salt
5 tbsp. olive oil
1/2 cup water
Directions:
Marinate liver in soy sauce, lemon juice at least for an hour or overnight would even be better
Heat pan. Put a little oil then sear half of the white onion that were sliced
Sprinkle pinch of salt. Turn over, sear again and set aside.
Heat the rest of oil. Sear the liver. Set aside
Sautee the other half of the onions. Put the liver and sautee for few minutes
Pour the leftover marinade and add the water
Let it simmer for about 20-25 minutes
Taste for saltiness and sourness
Turn off once preferred flavor accomplished
Sprinkle ground black pepper
Tips:
Make sure olive oil that is being used is the one okay for frying, sauteeing and not the one for salad and/or marinating
Burning a little bit some parts of the meat gives it a more flavorful taste
Uncooked onions can also be used as toppings. More onions, the better!
Sprinklilng a little bit of salt on onions while frying makes a difference
Keep tasting according to your preferred taste. I like making it a little sour
I like sprinkling ground black pepper in the end and not during cooking. It tastes better
Enjoy!
"Cookery is not Chemistry.
It is an Art. It requires instinct and taste rather than exact measurements" – Xavier Marcel Boulestin (French Chef)