This recipe is inter-changeable depending on what vegetables or marinate you want to use. Most of the time, the ingredients for the seasoning is already either in your pantry or in your fridge. There are a thousand and endless ways to make your grilled vegetables so don't be afraid to experiment according to your liking. The only rule is: Just be careful on overseasoning and overcooking them. The simple flavor of seasoning with the addition of the smoky taste in it is already more than enough. For me. At least for my palate.  That's how I want to enjoy my vegetables, but of course feel free to make them the way you want to. If that's the only way I can convince you to eat your veggies (wink, wink)
You can make this recipe and have some extra to set aside to add to your salad as toppings as well. They are good for 3-4 days and you can eat it cold. Yummm!
Prep Time: 15-20 minutes
Cooking Time: 20-25 minutes
Servings: 3-4
Vegetables you can use:
1 zucchini (sliced vertically or small cubes is fine)
1 carrot (sliced vertically or small cubes is fine)
1 cup cut cauliflower
1 cup cut brocolli
1 eggplant (sliced vertically or small cubes is fine)
1 stalk of asparagus (cut off the tough end about 1 inch long)
1 cup cherry tomatoes
2-3 sweet Anaheim peppers
1 small red bell pepper
1 small green bell pepper
1 small sweet potato
Dressing or Seasoning you can use:
Oriental dressing
Balsamic Vinaigrette
Italian Dressing
Olive oil/salt/pepper/lemon juice for a tangy flavor
Olive oil/salt/pepper/lemon juice and honey for a sweeter flavor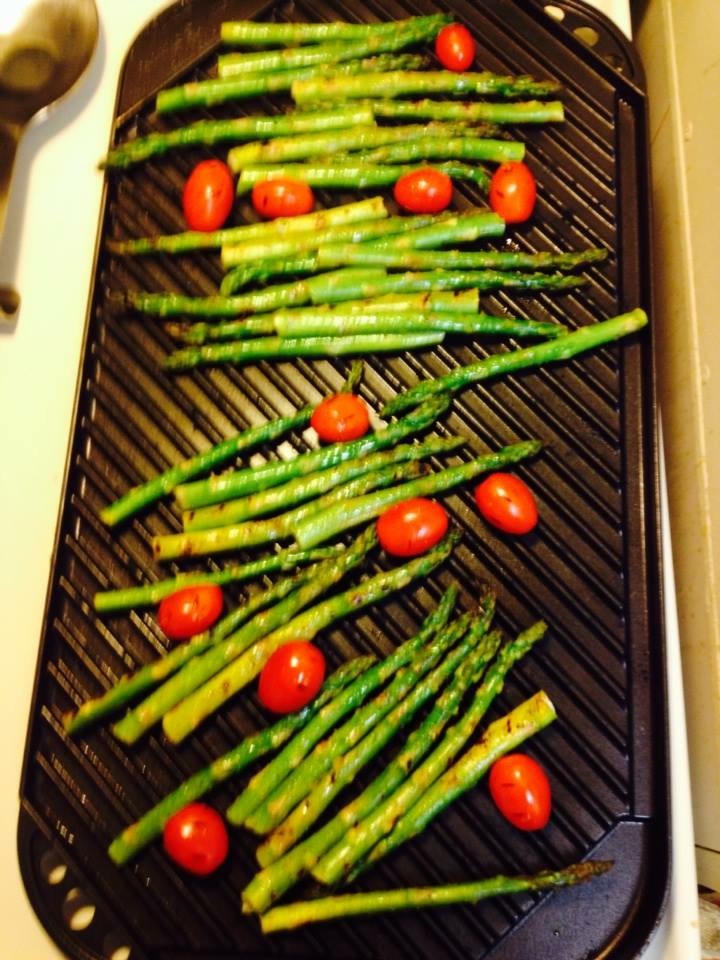 Directions:
1. Preheat griddle for 3-4 minutes. Set to medium high fire.
2. Line up the vegetables in the pan and cook for 2-3 minutes each side.  Cover so that heat are evenly distributed and for faster cooking. If you want it crunchy, make sure  don't overcook.
3. Turn over once only
4. Serve with rice, meat,  as side dish, snack, appetizer or as salad topping
5. This is also good for some fruits like pineapple, apple, plum, nectarine, and more. You'll be surprised how good they are grilled! ;p
Bon Appetit!
Tips:
If you want your veggies softer, you can parboil them before grilling. This is only recommended for the hard ones i.e. carrots, sweet potato, potato, Do not overcook as they tend to either gets mushy or too soft. Seasoning them while boiling is perfect
Using Cast Iron Reversible Grill/Griddle is so helpful esp if you don't have an outdoor griller
If you have the small toaster/convectional oven, it's great to use for broiling your veggies as well
"Cookery is not chemistry. It is an Art. It requires instinct and taste rather than exact measurements". – Xavier Marcel Boulestin (French Chef)