Prep Time: 20-25 minutes
Cooking Time: 40-45 mins
Servings: 3-4
Ingredients:
1 whole medium onion (chopped)
1 small knob ginger root (grated)
5 cloves garlic ( chopped)
1 whole red chilli , deseeded and roughly chopped
1 tablespoon ground coriander
1 tablespoon ground cumin
½ teaspoon ground black pepper
1 tablespoon ground cinnamon
1 tablespoon paprika
1 tablespoon turmeric
1 medium tomatoe (cubed and deseeded)
1/2 cup water
400 ml canned coconut milk
Okra – cut up in 1 inch pcs.  2 cups or 1 pack(normally packed in Styrofoam packages)
1 tsp salt
1 tsp fish sauce
1/4 cup olive oil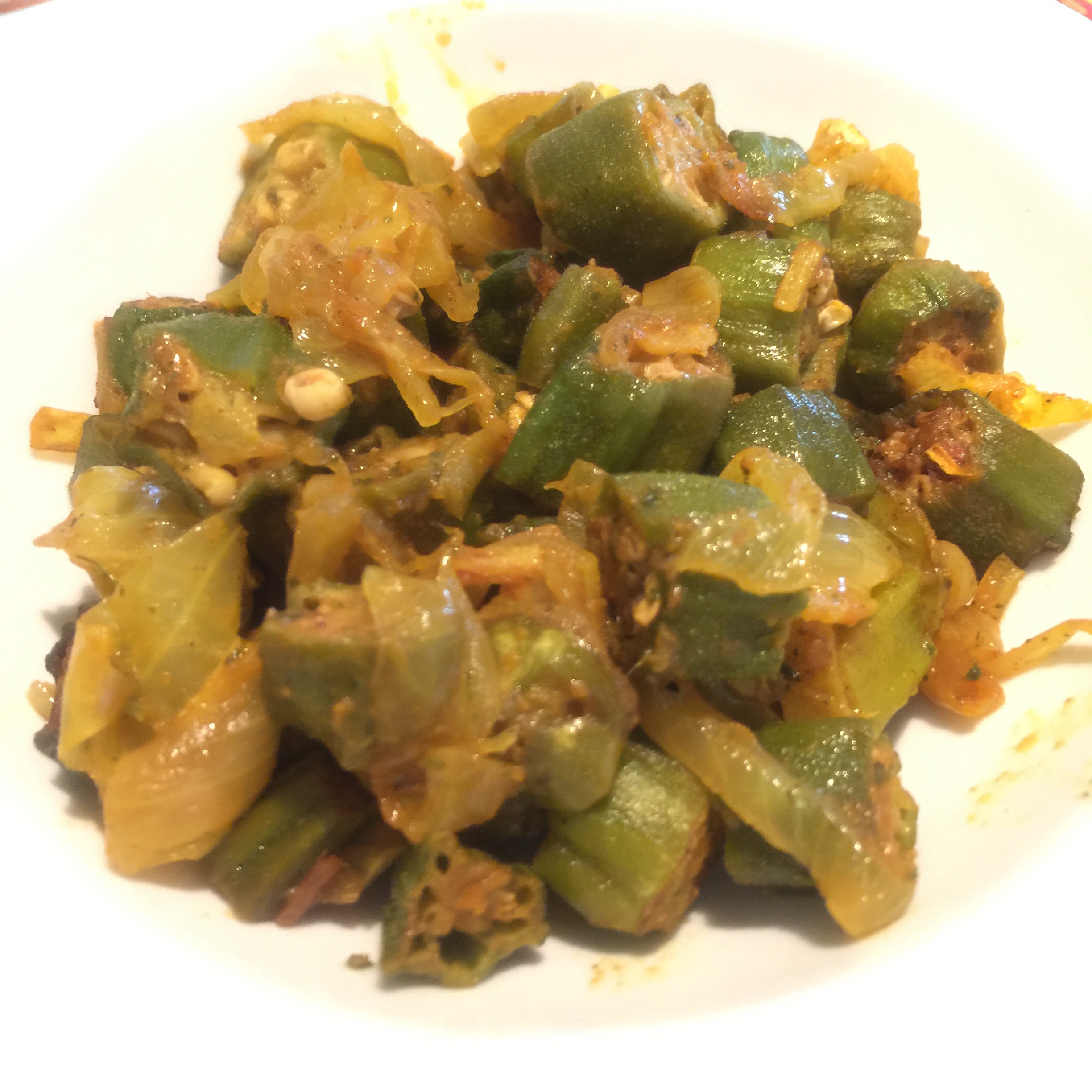 Directions:
1. Heat pan in low fire. Sautee onions, garlic and ginger in oil. Wait until soft and brown
2. Add in tomatoes. Stir for 5 minutes
3. Pour in all dried ingredients except the chili. Add the salt
4. Stir for another 5 minutes then pour coconut milk. Let it simmer for 10-15 minutes in low fire
5. Add water, chili and fish sauce. Simmer for another 20-30 minutes until sauce thickens to medium consistency only. You don't want it to be too thick
6. Take some extra sauce out from the pan and leave enough for the okra. Pour the extra sauce in a jar or Tupperware for later use
7. Add okra into the pan and stir. Simmer in low fire for no more than 10 minutes. I like my okra with a little crunch and over-boiling them makes it more slippery. But you can cook it longer if you want for softer texture.
Tips:
This recipe is good for about a couple batches of servings. The extra sauce can be saved and preserved in the freezer for 10-12 weeks. I always make extra and would divide them in 1 and/or 2 pint portions. That way, if I want to make any type of curry dish, it is just there ready to be used at a later date. They can also be used as dips for appetizers. You can buy either nan or pita bread to use.
You can use chicken, lamb, pork, beef or any seafood that you prefer. Just sautee the meat/seafood with little bit of onion and garlic, then add the sauce and around 1/4 cup of water, then simmer until it thickens. Voilah! You have great-tasting curry dish in few minutes!
Vegetables like eggplant, cauliflower, and potatoes also tastes great when cooked in curry sauce.
Having a spice blender to grind all your dry ingredients would help you faster, but if you have a mortar and pestle is fine.
If you haven't tried, they are great as dips and salad dressings too. You can buy pita or nan bread and make as appetizers or as a snack.
"Cookery is not chemistry. It is an Art. It requires instinct and taste rather than exact measurements". – Xavier Marcel Boulestin (French Chef)